School smart? Now get money smart.
The OpenSky® Secured Plus Visa® Credit card is designed to help you smartly manage your money and build credit.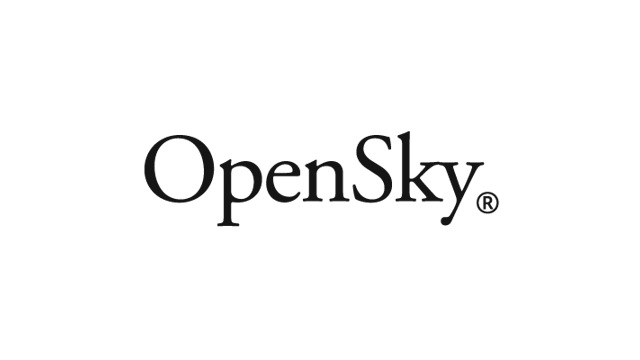 NSHSS handpicks its partners carefully, searching for nonprofits, organizations, and companies that directly align with our mission to provide the best resources for our members and their families. This page contains affiliate links to partner programs. We may receive compensation for purchases made through these links, at no cost to you.
What is a secured credit card?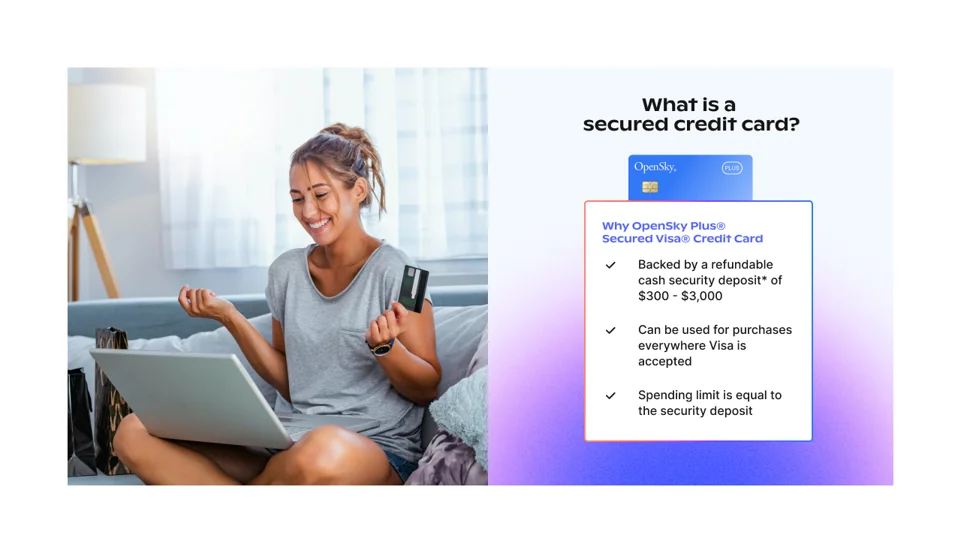 Why People Pick Us to Get Money Smart

What is credit and why is it important?
We've asked Micaela¹ to answer this question for you. Learn even more at openskycc.com!
What's credit got to do with it?
A student's credit score can influence their post-graduation plans, such as buying a car or renting an apartment. A poor credit score can make your monthly payments more expensive.
High credit scores open the door to opportunities with responsible borrowing. Also, employers will often pull credit scores when evaluating a candidate.
A higher credit score can open doors to premium credit cards with rewards or cashback.
What is a Secured Credit Card?
Secured credit cards are backed by a cash deposit, but otherwise work just like unsecured cards. The refundable security deposit(1) used to fund your OpenSky Visa Credit Card is equal to your spending limit.

How can my child fund their OpenSky Plus Secured Visa Credit Card and manage monthly payments?
Funding and monthly payments are not limited to the cardholder. Plenty of cardholders have learned to build good financial habits with the support of a parent or relative. Accepted funding options include: Debit Card, Bank Transfer, Western Union, Mail a Check, or Money Order.

Why does a Secured Credit Card require a security deposit?
The refundable security deposit you make when opening your account is important, because it means you can open an account without a credit check. The security deposit remains as long as you have the card and is held in an FDIC-insured account.

Why OpenSky?
OpenSky has been rated the best secured card to build credit by a whole bunch of industry experts, like Nerdwallet, Forbes, NextAdvisor, and The Points Guy.

Why OpenSky Plus Secured Credit Card
No Impact to Your Credit Score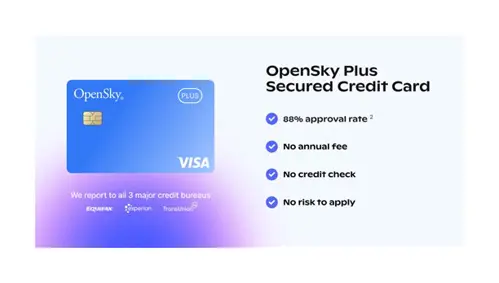 Important Disclosures
*OpenSky® secured Visa® cards require a refundable security deposit. Your credit limit is based on the amount of your security deposit. Minimum for OpenSky Plus is $300 and up to $3,000 (subject to approval).
Influencer and cardholder testimonials are solicited by Capital Bank N.A.
Based on Q2 2023, OpenSky® Secured Visa® Credit Card average approval rate is 88.7%. Individual results may vary.
This is an advertisement from OpenSky, a division of Capital Bank, N.A.
2275 Research Blvd. Suite 600
Rockville, MD 20850