NSHSS Student
Research Journal
Each year, NSHSS and its partners award more than $2 million in scholarships and educator grants. One of the many scholarship opportunities we offer to students is the "NSHSS Research and Academic Paper Scholarship." This scholarship, which has over 1,200 submissions each year, recognizes the top fifty students who have written academic papers, such as a research paper, an original essay, or an analytical paper.
These young scholars represent the future of research and analysis, conducting investigations into topics that impact humanity and our societies at large. NSHSS seeks to further recognize and acknowledge the incredible work that our young members are doing. These academics have the potential to be our future Nobel Laureates and are part of a worldwide network of high-achieving scholars equipped to lead impact-driven initiatives
for the next generation in their schools, workplaces, and communities.
It is our great honor to introduce you to The NSHSS Student Research Journal and the extraordinary students who created its contents.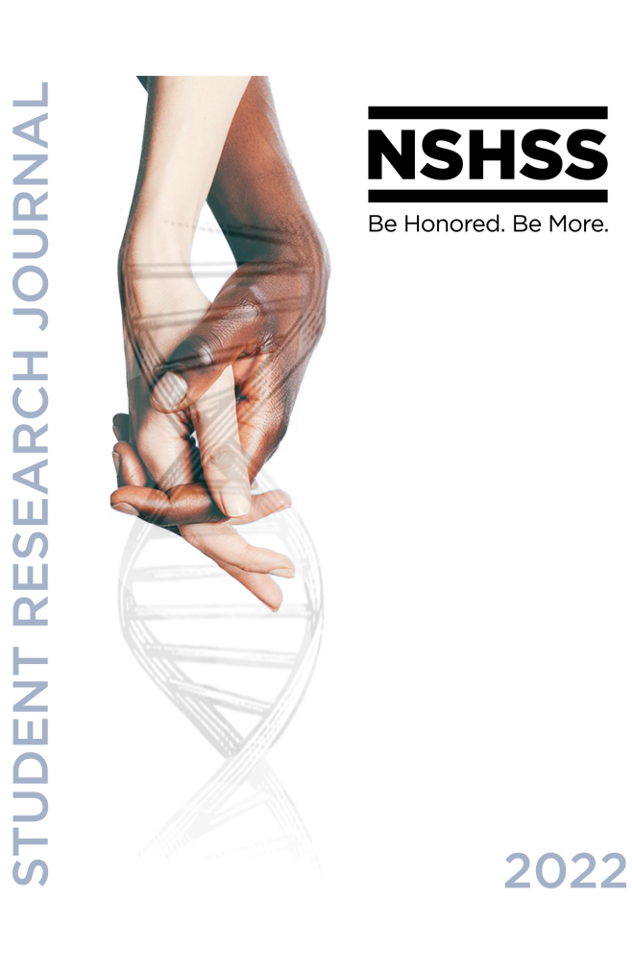 NSHSS Student
Research Journal
Featured Student Researchers

Mercy Austin will be a journalism student at the University of Missouri this fall. They love reading, researching obscure historical events, and excessively quoting song lyrics.

A 2022 graduate of Haverford High School, Zachary Graaf is continuing his academic career at the Elliott School of International Affairs at George Washington University, majoring in International Affairs. Zachary is also a recently published author of a historical narrative on local history.

Aayush Goud
Science and Medicine
Aayush Goud is an incoming freshman at the University of Wisconsin - Madison primarily pursuing a B.S. in Neurobiology on the pre-medical track. He is originally from Minnesota and enjoys playing basketball, badminton, and chess in his free time. He plans to continue his research and academic endeavors in years to come.

Caleb Ashes
Earth Science
I am a recent high school graduate from Gainesville, Virginia. I am currently enrolled in the Liberal Studies Program at New York University and expect to attain a degree in Economics. Should everything go according to plan, I hope to graduate in three years and set myself up for entry into Business School as soon as possible.

I am currently a freshman in college. I'm pursuing a BFA in studio art with a focus on Video Production, and I will hopefully get my MFA later on. This scholarship allowed me to get books and other resources needed for school, thank you NSHSS!

Adhvika Mahadevan
Psychology
I will be attending the University of Alabama at Birmingham in the fall. I'll be majoring in neuroscience on a pre-medicine track. In my spare time, I like going out with my friends and trying new types of food.

Meghan is a recent graduate of Ardrey Kell High School in Charlotte, North Carolina. Her peers have described her as bubbly, passionate, and caring. Meghan treats everyone with respect and kindness; she is not afraid to help others in need. Through hardships experienced in her high school career, Meghan has maintained and improved on her grades and involvement within the Charlotte community.

Brent Edington is a recent graduate of Frederick Douglass High School in Lexington, KY. As a senior, Brent conducted research on the effects of COVID-19 on the education curriculum. He plans to attend the University of Leeds in Leeds, England, majoring in Computer Science.

Meagan Hernandez
Psychology
I have lived in Texas my whole life. I just graduated high school and am heading off to Syracuse University this fall as an honors student to study Mechanical Engineering. Though the options are endless, I want to work towards a job in an international Aeronautics company or the military. Besides, I have heard it said that there is a possibility between what is known and what has yet to be tried. I look forward to the possibilities that my future has to offer!