How to apply for Educators Grants
NSHSS supports educators in their mission to inspire and guide students towards academic success. By registering as an NSHSS Educator, you gain access to resources and grants tailored to your field of work. Whether you're a teacher, counselor, administrator, or in any academic role, you can apply for grants by registering through the provided link. Once registered, navigate to the "Grants" section on your dashboard to explore and apply for these opportunities.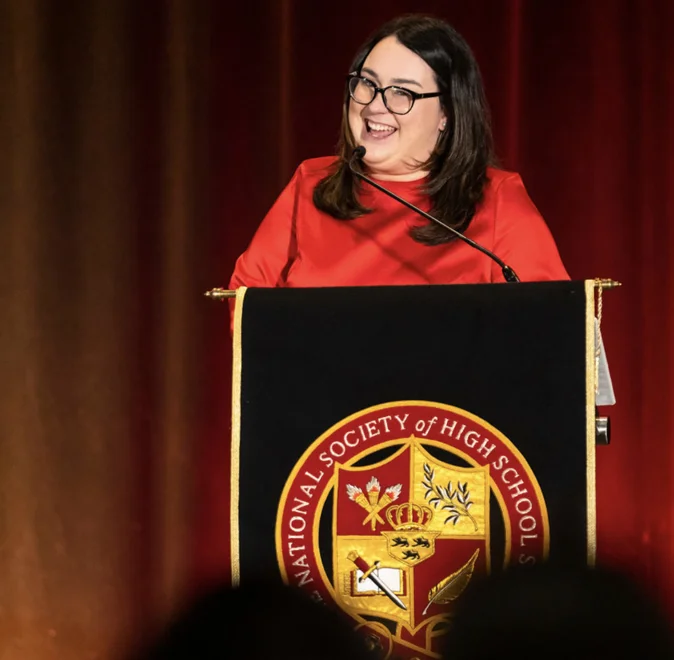 Hear what NSHSS Grant winners have to say!

Jose Rivas
Lennox Mathematics, Science, and Technology Academy, Lennox, CA
"I want to thank the Scholarship & Grants committee for selecting me for this incredible honor! As a teacher, I went into the profession because I wanted to make a difference in students' lives and create positive change. Through the application process, this recognition has helped me to reflect on my years as an educator and the impact I am making every day to my students and the community. I am truly humbled by being selected as the 2022 Claes Nobel Educator of the Year from a pool of other educators that are also doing incredible things in their schools. Thank you!"

Nikki Hunter
Enrichment 4 Henry Homeschoolers, Mcdonough, GA
"We are so thankful for your kindness and support. We have a Science Fair coming up in February, and finding sponsors has been a difficult one. Non-traditional students have limited resources in many communities, and we want to equal the playing field. No child should be left behind, meaning public school and non-traditional students. Thank you!"

Tyler Dufrene
Hahnville High School, Racelance, LA
"Words cannot express how honored and grateful I am to be selected for this prestigious award. As a passionate educator, I pour my heart and soul into every lesson I deliver. It is a true blessing to be recognized for my unwavering devotion to students and their success. I offer my heartfelt appreciation to the Scholarship & Grants committee for their time in reviewing my application and decision to invest in me and my development as a distinguished educator."

Theresa Fischer
Fredonia High School, Fredonia, KS
"I am a music and theater teacher in Fredonia, Kansas. I applied for the NSHSS School Supply Grant to help with the cost of our theater costumes for the musical production of "Beauty and the Beast" that we put on this year. With the grant money I received, we could rent specific costumes for our show, including costumes for the characters Belle, Cogsworth, Lumiere, The Beast, the Wardrobe, and Chip. With the support I received from NSHSS, I could devote more time and money to all aspects of the show, earning our students several nominations for state-wide awards. Thank you for supporting the arts and Fredonia High School!"

Benjamin Straka
Stillwater Area High School, Houlton, WI
"Thank you for the opportunity for me to highlight my students and my career. Helping students find their passion and grow as individuals is made easier with the financial support offered through organizations like NSHSS. I appreciate the hard work and thoughtful process laid out by the Scholarship and Grants committee."

Sofia Gonzalez
Morton East High School, Cicero, IL
"NSHSS has afforded me life-changing opportunities regarding my life's work in education from Top Educator of the Year 2019 to winning a $10,000 grant for girl's education. The support and tangible resources I've received will continue to advance my efforts towards world betterment and equity in the classroom."

Bob Fenster
Hillsborough High School, Hillsborough, NJ
"It is always humbling to receive an award, but also something to be prideful of at the same time, and I am grateful to NSHSS for the efforts it makes to recognize teachers."

Helen Freeman
Huntington High School, Huntington, WV
"Being named the Educator Coach of the year for 2020 by the National Society for High School Scholars has reaffirmed my hard work and dedication to students over the past 35 years of my teaching career. Receiving the $5,000 grant in the midst of the COVID–19 Pandemic has definitely been a blessing since it arrived at a time when it was desperately needed. I am thankful and humbled to have received such an outstanding honor from such a prestigious organization."

Jody Zepp
Long Reach High School
"The impact of being honored as a Claes Nobel Educator of the Year lasts a lifetime! One is reminded that we are in the business of saving academic lives and that the best of the best for students is the best for ALL students. This honor amplifies what pedagogical practice is all about, whether we are in minority-majority schools, in schools with over 60 languages, in rural schools, in urban schools, in virtual classrooms... This award continues to inspire both my head and heart - and it generates a will and desire to empower educators everywhere!"
Grants FAQ
Educators who have registered as NSHSS Educators are eligible to apply for grants. Click here to register for free as an NSHSS Educator.
NSHSS Educators of Distinction are outstanding educators—nominated by NSHSS members—who are leaders in both their school and community. By offering exclusive grants to NSHSS Educators of Distinction, NSHSS aims to empower leading educators as they continue to improve students' lives both inside and outside of the classroom. Click here to learn more about the NSHSS Educator of Distinction program.
No, if you unsubscribe from any NSHSS emails, you will no longer receive grant email invitations. Be sure to set your NSHSS contact preferences to "allow" to receive grant notifications. To edit your contact preferences, log in to your dashboard, and select "My Profile."
Make sure that your NSHSS contact preferences are set to "allow." When you update your contact preferences, it should take less than a day for the grant applications to appear on your member dashboard. If you are a newly registered NSHSS Educator, please allow 24 – 48 hours for grants to appear in your dashboard.
Most grants require a statement, resume, principal or headmaster recommendation, and a headshot (photograph) suitable for website posting.
NSHSS grant applications must be submitted by 11:59 PM EST on the deadline date.
You should receive an email confirmation that your application was successfully submitted. You can also check your application status this way:
1) Log into your NSHSS Dashboard: https://dashboard.nshss.org/
2) Click on Apply for Grants> Click Here to View Current Open Grants
3) Go to My Applications (in the top right corner)
4) On the My Applications dashboard, you can see the status of your applications. If it has been successfully submitted, you will see a green check mark and "submitted" as the status.
NSHSS educators are eligible to receive one NSHSS grant per academic year.