Alexander Adler, Greenville, North Carolina
The Oakwood School, 2018
Alexander is the founder and director of the nonprofit organization, Chickens for Children, which "aims to promote and teach environmental awareness, a sense of responsibility, and sustainable living to young children and the community." Children are informed of "the benefits of owning the ultimate productive pet—a chicken." Alexander created the organization's website, established its nonprofit status, and worked with local businesses for funding and supplies. Alexander is a public speaker aiming to educate students about both the companionship of a pet and environmental sustainability. In addition to producing eggs, chickens also eliminate bugs and pests that would typically require pesticides. Alexander is a member of the varsity soccer and tennis teams, Mu Alpha Theta, and the Spanish Honor Society. He is also a certified scuba diver.
Q) Tell us about how you became interested in environmental sustainability and your organization Chickens for Children.
A) I became interested in environmental sustainability through my studies in AP Environmental Science. After my family first purchased chickens, I began to realize their wealth and potential contributions to sustainable living.  They are the ultimate example of sustainability – taking very little FROM the environment (bugs, worms, food by-products) yet giving SO much in return (fertilizer, pest control, and protein rich food sources). This past year, I studied environmental science and continued to comprehend how important public environmental education is. I have learned that most children, especially young girls and boys in inter-city neighborhoods, don't understand where their food comes from. Through this realization and additional education about the lack of public knowledge regarding environmental science, I came to realize that I wanted to help educate children how to protect the environment and use our global resources wisely. This culminated in the creation of my own nonprofit, Chickens For Children.  I strive to educate the public on how chickens can aid environmental awareness and sustainable living.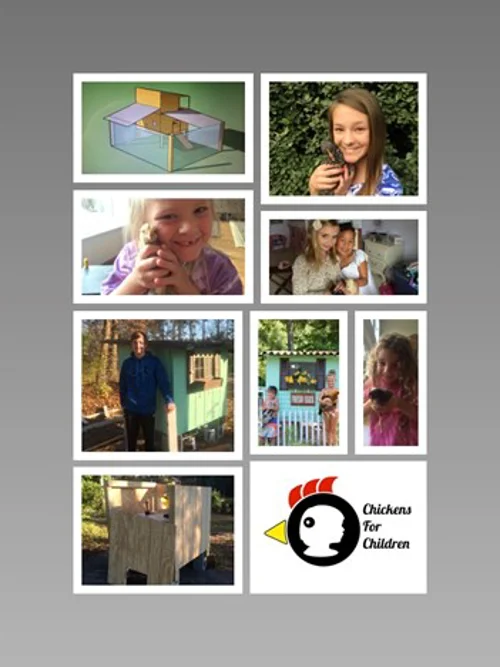 Q) If there were one thing you could predict about the future of science, what would it be?
A) I predict that within the next few decades, we will see an increase in sustainable technologies and eco-friendly devices. There will be advances in more efficient vehicles, home appliances, and sustainable buildings.  This is why I believe that, in this day and age and especially in the future, it will become increasingly crucial to have a basic understanding of environmental science and sustainability. 
Q) If there were one thing you could have in the classroom that you don't currently, what would it be?
A) My school doesn't currently own a 3d printer, but I believe owning one could bring numerous benefits to all of the high-school students.  A 3d printer would allow students to express their creative spirit in additional ways in a school setting.  3d printing would also provide additional educational-opportunities to students and teachers at a school where technology use is already strongly encouraged.
Q) Tell us about your favorite teacher, how have they supported or inspired you?
A) My AP environmental teacher, Thomas Taylor, and the things I have learned in his classes, have inspired me tremendously to continue the growth of my nonprofit. Through his guidance and education, I have learned various applicable topics of environmental science that I continue to apply to the environmental-aspect of my nonprofit organization. Inspired by the threats of population growth, destruction of the environmental, and unsustainable growth, I have worked hard to educate the public on better alternatives so that we can all help save the environment. Without his education and guidance of environmental science, my nonprofit would not be as successful as it is today.       
Q) How has NSHSS played a role in your academic career?
A) Receiving the NSHSS Earth Day award has inspired me to excel in my high school classes and continue to educate the public about the importance of our Earth and using its resources to the best of our ability. NSHSS has also helped me reflect on the crossroads between my volunteer service and school studies, especially with respect to environmental science. I hope to one day become a member of NSHSS as I continue to display a dedication to superior academics and service to others. I know that other students such as myself have also benefited from scholarships and workshops provided by NSHSS and I hope to collaborate with them one day.  
Q) What is your fondest memory related to Chickens for Children so far?
A) By far, my fondest memory related to Chickens For Children is working with the Third Street Academy to educate its students about chickens. Through this venue, I have been able to work with inter-city children and the public, teaching them about chicken anatomy, the benefits of backyard chickens, and even showing them that the food we eat does not just come in a package from the mini-mart down the street.  I brought a few of our family chickens to the presentation so that the children were able to pet and hold the chickens. Many of them had never even held an animal, much less seen or held a chicken, and few knew where their eggs actually came from. This experience was truly eye-opening and it was then that I realized how impactful my nonprofit truly can be.   
Q) Where do you see yourself in 10 years?
A) In ten years, I definitely hope to be making a difference in the world. I hope to have completed college and grad school and have a successful career with an architecture or engineering firm. By combining my passion for building with my knowledge of environmental topics, I hope to create environmentally-friendly structures that are more energy and resource-efficient while still being aesthetically-pleasing.
Q) What do you plan to study in college?
A) In college, I plan to pursue studies in civil/environmental engineering or architecture. I have always been fascinated by buildings and bridges and this is exemplified by my passion of designing and constructing chicken coop structures. I would like to use a solid understanding of engineering and environmentalism and apply these skills to design more environmentally-mindful buildings in the future. The importance of sustainable urban development will become even more paramount in the next few decades, and I hope my college studies will allow me to to play a critical role in its future.
Q) What do you hope for this year's incoming High School Freshman class?
A) I hope that this year's incoming High School Freshman class learns to appreciate education rather than viewing it as a means to an end. I hope to see more students taking an active role in the education process so that they can use skills learned in the classroom and apply them to their lives to make a difference outside of the classroom. In this way, younger students will be able to impact their communities and use the skills learned in school to make a real difference in the world.
Q) Outside of your environmental advocacy involvement, what has been your favorite most enjoyable aspect of high school?
A) Beyond my involvement in environmental advocacy, I have truly enjoyed playing sports, both at school and in the community. Throughout my high-school career, I have played soccer and tennis, and I have had numerous opportunities to bond with many teammates while playing sports. My teams have gone to multiple state championships and I have learned invaluable lessons of winning and losing, which have helped me on and off the athletic field. While participating in school sports and maintaining an excellent grade-point average, I have also learned time-management skills when balancing schoolwork with sports.   
Q) What do you do to stay organized / focused?
A) As the oldest of four children, my house is always chaotic and loud. However, I realize that organization and focus are necessary skills for success in school and beyond.  To achieve this, I set goals and keep planners. I'm very organized but have furthered my organization skills through the management of my nonprofit: filing taxes, managing ledgers, sending tax-deductible letters, and managing advertisement. I also use my parents as role models.  On a daily basis, they demonstrate that hard work and determination pay off and focused commitment to family helps build a network of support.
Q) How do you relax? What's your favorite hobby?
A) One of my favorite hobbies is playing the viola. Music has always been an integral part of my life, and I use music as a way to relax and as an escape from my daily stresses. I enjoy playing the viola as a soloist, as well as in ensembles, orchestras, and with other community groups. I particularly enjoy playing with the Bravura Ensemble which plays contemporary pieces not often played by stringed instruments.
Q) Do you have a motto? If so, what is it?
A) "Vision without action is a daydream. Action without vision is a nightmare. Action with vision has the potential to change the world"
About the Earth Day Awards
The NSHSS Foundation has partnered with the Captain Planet Foundation (CPF) to encourage environmental stewardship among high school students globally through the Earth Day Award competition.  Prizes of $500 are awarded to high school students in recognition of environmental stewardship, leadership and volunteerism expressed through the Earth Day projects submitted for the competition. The project was launched in 2013 and is open to all high school students annually.
With NSHSS, students can take advantage of scholarship opportunities to help reach their academic potential and pay for college, study abroad opportunities, summer programs, and even graduate school. NSHSS and its partners offer more than $2,000,000 in scholarships each year. The spectrum of high school and college-level scholarships available with NSHSS are designed for students in the areas of academic excellence, entrepreneurship, leadership, literature, medicine, music, STEM, sustainability, visual arts, and more. Learn more about NSHSS or view scholarships open for application. Or connect with NSHSS on Facebook, Twitter, Instagram, LinkedIn, Snapchat, and Pinterest.