Aside from academic excellence and service to their communities, one of the things that makes NSHSS scholars so unique is their passion to make change happen for both themselves and for others. Whether it's designing a product for clean energy production, creating a plan for water irrigation in villages in Ethiopia, or even founding a nonprofit to diversify the technology space by teaching girls and other minorities about computer science, our scholars truly are one-of-a-kind. Kavya Kopparapu, founder and CEO of Girls Computing League (GCL), is no exception. Learn how she made the dream of making positive change in the world a reality below!
Getting to Know Kavya
A Virginia native and Harry Potter trivia whiz, Kavya appears to be your normal college student until you really get to know her and her aspirations. Kavya is a sophomore at Harvard, studying both Computer Science and Neuroscience, but her journey into these fields started long before college. As a child, Kavya was always interested in biology, but in middle school, she developed a passion for computer science as well. One summer, she attended a local university seminar where professors spoke about computer science and how it can make a positive impact in other fields such as medicine. After that, the spark was lit and Kavya went home to learn everything about computer science. She taught herself Java that summer.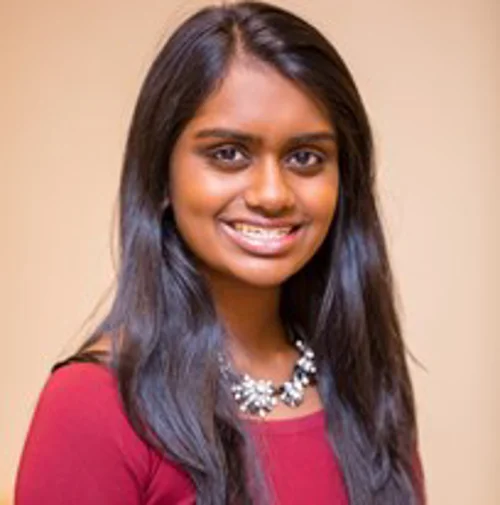 Kavya has managed to tie together her passion for biology and computer science thanks in part to her high school, the Thomas Jefferson High School for Science and Technology. Not only was she required to take a computer science class, Kavya's school also offered courses on Artificial Intelligence (AI) and other computer science classes that supported her passion in this field. However, while attending classes, Kavya noticed that the elementary and middle schools near her high school didn't have a dedicated technology teacher or had a high demand for this kind of education, but no means to provide it. Kavya noticed the need for computer science education, and so, GCL was born.
Girls Computing League
After spotting an opportunity to give back to her community, Kavya wanted to work with after school programs to teach others how to code. It started out with her teaching basic computer science to a few dozen students, but quickly gained popularity, and before she knew it, she was partnering with the Tiger Woods Foundation to teach educators how to code (so they could support their students who wanted to code). Kavya and the Girls Computing League put on workshops for girls in low-income housing, taught parents how to code, and was even part of an advocacy program with the D.C. Housing Authority.
From the get-go, Kavya has been all about diversity and inclusion, regardless of a student's means, which is why GCL also wanted to teach students who didn't have the means to learn about computer science. At GCL, they focus on emerging technologies (such as AI) and topics or fields of study that are not easy to learn, don't have many resources available to the public, or aren't readily available for students. GCL is able to do this through AI conferences, summits at college campuses, and even hackathons with experts in the field to connect with students.
Aside from her dedication to spreading computer science knowledge to those interested in learning (through GCL), Kavya is also interested in utilizing computer science for good. How? She views computer science as a driver of positive change in the medical field and wants to use it to create diagnostic tools that could make diagnosing a disease or coming up with a treatment plan cheaper, more accurate, or more accessible. By teaching others about computer science, the Girls Computing League is able to spread this mission even further.
What's Next?
While it may seem like Kavya is already an incredibly accomplished woman, she has no plans of slowing down after graduation. She plans on being an entrepreneur who runs her own startup company, focusing on solving the problems that are most important to her. Right now, that involves solving medical problems with AI.
Kavya is driven by her passions. We can't wait to see what she accomplishes in the future! If you're hoping to be the next Kavya Kopparapu, we'll leave you with this piece of advice from her: Don't be afraid to ask people for the things you need or for help. The worst thing they can say is no, but on the flip side, all it takes in one person to change the game. Always ask.