The world is such a diverse place, full of endless opportunities to explore our passions and interests. Some of us are creatives who get excited about creating the next viral ad campaign or writing for the New York Times while others of us are more technical, thrilled at the prospect of designing a revolutionary technology, curing a disease or using mathematics to help NASA plan a rocket's trajectory.
Kaylin Rackley, a senior at OSCEOLA County School for the Arts in Kissimmee, FL, gets excited about STEM (Science, Technology, Engineering, Mathematics). When she got the chance to travel to Hong Kong to learn more about STEM, she jumped at the opportunity.
Kaylin has been interested in STEM since she was a kid. As a child who grew up around advanced technology and was interested in both science and math, STEM seemed a natural fit for Kaylin. She was especially interested in computer science but has since decided that she wants to work in computer engineering. This will allow her to solve for real-world problems and explore her passions further.
Kaylin saw the NSHSS event and asked her mom if she could apply to go to the International Symposium on STEM, to which her mom replied, "Who am I to stop you?" A short while later, Kaylin came to her mom jumping up and down with excitement over the news that she was accepted, which was a proud mom moment for her mother Alma. Kaylin and Alma prepared for their trip to Hong Kong. The symposium would give Kaylin opportunities to network with other students, participate in workshops, listen to esteemed lectures, and even put together a project.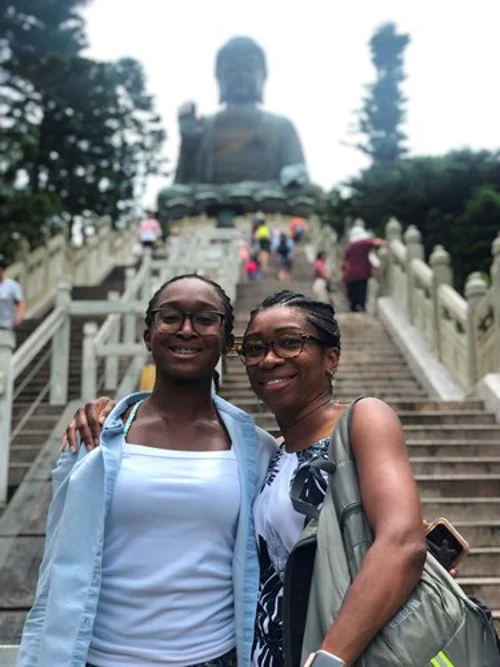 The 4-day symposium took place July 25-28 at the University of Hong Kong where attendees learned about artificial intelligence, design, financial technology and global health development. Upon arrival, scholars participated in team building exercises while they networked with other attendees before dinner at St. John's College. During dinner, Kaylin was able to sit with university students who offered advice, insights and shared their experiences at the university. She even met the headmaster of the college who shared his experiences as well.
The symposium kept attendees busy with learning workshops, lectures on computer encryption, and even a group project. The workshops discussed everything from the environmental impact of goods production to medical concerns in the STEM field to a panel discussion on environmental concerns about plastic, paper and reusable bags. Kaylin was also able to visit the Microsoft studio in the Tech District where she talked with interns there about the projects they're working on and ask questions about her project ideas.
Scholars were split into 12 groups and assigned a project: develop a product or create an organization that would go with the symposium theme of "Innovation and Transformation for Better Living." CEOs from startups in the community helped students understand how to present their projects, what works and what doesn't, and offered general advice on their projects. The teams also worked with mentors. Kaylin's team worked with Mr. Calvin who had previously worked with blockchain—a tenet of Kaylin's team's project.
In Hong Kong, patient records are kept with the government, not the patients or the hospitals. This can cause legal problems when patients are waiting months to receive their records (from the government) when suing for malpractice, but it also causes general delays in care. Kaylin's group addressed this issue by creating a website where patients could access their health information quickly. This would eliminate the months long waiting problem as well as providing patients with more timely care. So, how exactly does it work? The Internet of Things (IoT)
IoT allows everyday objects to send and receive data—like a smart home that allows users to monitor all their IoT devices remotely or a smart lock that unlocks when a person's mobile phone gets close enough to the lock. Kaylin and her team's project would utilize IoT devices similar to fitness watches that record information such as your heart rate to gather data about your health that would be then sent to your phone. This wouldn't just include our personal devices, however, hospital devices such as MRI machines would also communicate the information to your phone, hence, immediate health records at the palm of your hand. Pretty cool, huh?
Kaylin's team worked with Mr. Calvin and relied on his blockchain knowledge to ensure secure delivery of the sensitive health information. Patients would now be able to receive their health information quickly and securely. As a result of their innovation and dedication to bettering the world, Kaylin and her team were awarded the Best Student Entrepreneurs title. This title earned Kaylin an internship to go back to the university this winter to work with local companies. We (and she) couldn't be more excited!
If you're interested in NSHSS events, check out our upcoming events! NSHSS offers members everything from networking events to Ivy League college tours to STEM camps, and so much more.