Before we delve into the subject, Hello — I'm Anne, a high school senior from Myanmar and a Politics, Law and Economics (PLE) student at YYGS. And guess what, I'm OFFICIALLY an alumni of YYGS'22!
In this blog, I'm gonna take you guys through my whole journey of experiencing the YYGS program and offer some guidelines and tips to make the best out of it. And of course, answer the question of 'Is completing the YYGS program actually harder than getting admitted to it?'
First and foremost, this is how my typical YYGS weekly schedule looks like!

The following are the fundamental components of the YYGS program:
1. Family time
2. Seminars
3. Lectures followed by Q & A
4. Breakout Discussions
5. Simulation
Family Time
Family Time in YYGS is a unique component which allows students to meet and bond with a small group of 10–12 students with the same academic interest throughout the whole program. These sessions are mentored by respective Instructors and students get to engage in icebreakers, daily reflections, fun games and is a safe and supportive environment for students to share more about themselves and learn more about each other.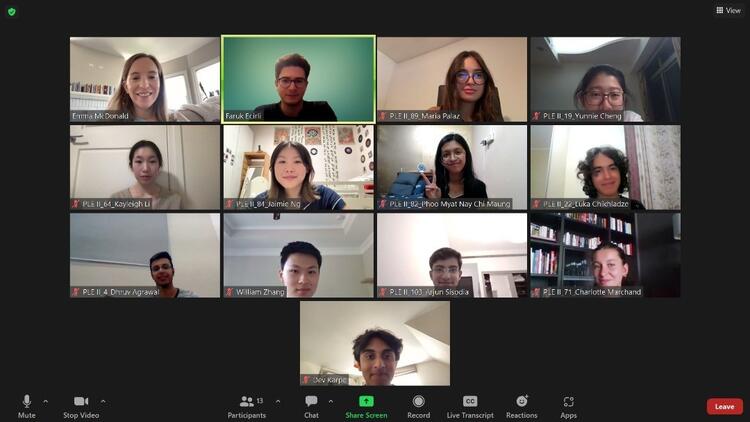 Personally, Family Time was one of my favorite components because it allowed me to express and immerse myself in an environment that promotes diversity and inclusivity. The best way to enjoy this session is to engage in conversations without holding yourself back. If you're trying to improve your social skills, YYGS Family Time can be the starting point for you to lead conversations and interact with your peers more effectively. Or are you an introverted person, hesitant to start or engage in conversations? Don't worry! YYGS is a supportive community for everyone to take part without having the fear of getting judged.
Seminars
YYGS Seminars are small groups of interdisciplinary classes that are taught by graduate and undergraduate students, allowing students to develop critical thinking skills by exploring a variety of relevant topics to their chosen program choice. For example, as a Politics, Law and Economics (PLE) student, I attended seminars such as 'The Global Politics of Reproduction' where we explored fundamental concepts of biopolitics and the politics of reproduction through different country-by-country basis case studies and 'How to Build a Nation?: Democracy, Decolonization, and Post-Colonial Visions for the African State' where we looked through the lens of law and policy makers in building a nation from scratch with reference to the history and rise of the African State. I would define 'YYGS Seminars' as innovative because I have never seen such carefully-designed courses with much detail and creativity that truly consolidated my theoretical knowledge.
The best advice for enjoying the seminars to the fullest is to complete your pre-assigned readings and conduct additional research related to your seminar topics. I highly recommend taking notes and brainstorming discussion questions in order to promote interactive and thoughtful discussions during class.
Lectures followed by Q & A
YYGS Lectures are led by renowned Yale faculty and notable scholars in their respective fields and expose students to a diverse array of ideas, perspectives, and informative research. I remember myself engrossed in the lecture, 'AI, Emerging Technologies, and National Power' by Edward Wittenstein, absolutely in awe to learn the intersection of AI and Law, Policy, and Ethical Framework. One of the biggest takeaways from the lecture would be the fact that technical fluency is becoming essential in the field of International Affairs and sparked my interest to learn more about the topic in the long run.
Once again, the ultimate way to fully experience the lectures is to complete your pre-assigned readings as well as additional recommended reading materials. All lectures last an hour and a half so it is very important that you maintain your concentration throughout the lecture to fully engage in it. Make sure to bring in your intriguing questions to the floor to ask the lecturers!
Breakout Discussions
YYGS Breakout Discussions are sessions held after seminars and lectures within the family group where Instructors lead smaller breakout sessions to further discuss and explore topics related to the content of the seminars and lectures. During these discussions, we would reflect our opinions on the seminars and lectures as well as pose questions, and brainstorm real-world implications.
Simulation
YYGS Simulations are sessions where students immerse themselves in a simulated universe to address real-world issues by participating in an open-ended, collaborative, problem-solving activity with like-minded peers across all programs. YYGS Simulation is literally my favorite component because I was given the chance to share my passion of advocating for equal and quality education on a global spectrum through public policy and resources distribution with like-minded peers for my simulation project. Feel free to check out our simulation project here: https://educationrevolution.my.canva.site/(link is external)
YYGS Simulation is an amazing opportunity for you to express your interests and to advocate for social issues that you believe are concerning to the global community. After you have finalized your group's area of concentration, don't waste any time in building the project because it is compulsory for you to present your simulation project at the end of the program, meaning that you have only two weeks to plan your goals and objectives, implement innovative ideas to execute your project and prepare to present it in an intriguing way on how it would contribute to solving real-world issues.
Is completing the YYGS program actually harder than getting admitted to it?
First of all, it is important to keep in mind that YYGS has very strict attendance policies unless you have exceptional circumstances that would prevent you from attending classes regularly. And the answer to the question would depend on one's circumstances at the time of the program. Generally speaking, if you have other commitments simultaneously while you're attending the program, it would pose a hardship for you to balance things as YYGS is a rather tough and demanding program that would require your time and efforts even outside of your usual 3–6 hour commitment to the program on a daily basis so so it's wise to choose your schedule that you can fully dedicate yourself to YYGS throughout the course of two weeks.
Initially, when I got accepted to YYGS, I thought that actually attending and completing the program wouldn't be that difficult compared to the challenging application process I went through. But during the program, I had other commitments such as having to study for an exam throughout the program so I went through so much stress and major time crunches that took a toll on my concentration to focus during long lectures. Therefore, I wouldn't exactly say that completing the whole program is more difficult than getting accepted to it but rather depends on your personal circumstances and your amount of dedication towards it.
For more information, please visit Yale Young Global Scholars' website: https://globalscholars.yale.edu/. The YYGS 2023 application is now open!
Thank you for reading so far and I hope this information was helpful for prospective YYGS students.
Author Details:
Phoo Myat Nay Chi Maung
Politics, Law & Economics
Myanmar