As children, we're taught that the difference between principle and a principal is that your principal is your pal. A clever play on the spelling indeed. While principals certainly act as "pals" to their students, they do so much more. They serve not only their students, but their teachers, staff, and communities, too. NSHSS recognizes exceptional principals for their dedication to changing the world through their support of educators and students. We're happy to honor Jason Schrock, a Michigan principal, as one of the NSHSS top 10 Educators of the Year.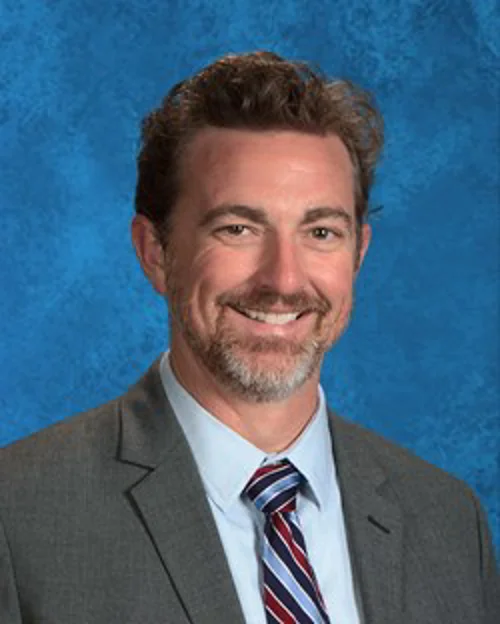 Jason, Principal at Howell High School in Howell, MI, is more than just a principal who sits behind his desk or oversees detention. No, he is much more. He has been recognized as the Michigan Association of Secondary School Principals 2018 Principal of the Year for his outstanding leadership. He leads teachers, manages resources, solves problems, hires and maintains staff, and supervises his students. Jason does all of this because he ties everything back to his philosophy of serving others and "E pluribus unum," out of many, one. This guides his efforts to inspire and empower those he serves.
Before becoming a principal, Jason served as a math teacher with a goal of inspiring students to problem solve, both in math and in life. He has remained steadfast in this mission 20 years later as a principal. Jason has connected with fellow principals across the country to listen to their missions, what initiatives they're rolling out, and their ideas on how to better serve. While everyone has diverse ideas, they are all connected by one thing: e pluribus unum…creating one out of many. It is Jason's dedication to serving others that has won him awards and recognition, but more importantly, confidence in him as a leader of changemakers from those he serves.
As a principal, Jason is forced to make difficult decisions, but he reminds himself of why he's doing what he's doing when things get tough. His students and teachers need him. Education needs him. As an educational leader, it's his responsibility to advance education and to inspire, equip, and empower those he serves to become citizen scholars. Jason has been an exemplary leader and no doubt deserves to be among the NSHSS top 10 Educators of the Year. Follow Jason around Howell High School during his Instagram takeover!