When NSHSS member Shaffiou Assoumanou moved to the United States in 2013, he never dreamed that one day he would find himself in the White House accepting an award from First Lady Michelle Obama.  Moving from Togo, a small country in West Africa, to the Bronx, NY, was a challenge for Shaffiou, not only because he had to adjust to a much colder climate, but also because he now found himself studying in a language he did not speak, English. The official language of Togo is French, and while he knew a few words in English, it was not enough for him to communicate effectively. As he explains, "when I started going to school, everything was difficult for me and in class, I couldn't understand everything the teacher was saying. I only was doing very well in math because math doesn't require that much English." But because of Shaffiou's ambitious nature, he worked hard to learn his new language as quickly as possible and soon became one of the top students in his class.
Shaffiou improved his English by reading and getting involved with different organizations, including NYCLEMPLAY, a civil rights organization fighting to end sports discrimination in NYC Public High schools, and the Center Urban Pedagogy, a non-profit that uses arts and design to improve civil engagement. CUP works with several schools across the city in afterschool programs to work on projects about the NYC local government. Through his involvement with CUP, Shaffiou was selected to be a Youth Representative for the organization. One of his first duties as a Youth Representative was to accept The National Arts, Humanities Youth Program Award from the First Lady on behalf of CUP at the White House. Below, Shaffiou shares his first-hand account of the award ceremony.
Meeting the First Lady of the United States of America
Meeting the First Lady, Michelle Obama, was a great experience for me. I thought I was dreaming that day, but I was not. I remember 7 years ago when I was watching her on television, when Obama was first elected president. I was admiring her and her beautiful family. Who could have thought that as a poor boy from a poor country, I would meet her one day and in the White House? It wasn't even in my early dreams when I was living to this country in December 2013. When I was leaving to go to the White House, I was nervous at the beginning. Once there, the ceremony started and I was called on stage to receive the award, I was even more nervous and my body was shaking. But everything went well once on stage. I hugged her emotionally and told her how much I love her.  She smiled and hugged again. I was happy to be in the White House and receive that award for the organization from the First Lady.  However, one thing that made me happier was the smile on my father's face when he was in the White House. He was able to be in the White House because of me, and he was so proud. That gave me joy, hope and determination to keep working very hard in whatever I'm doing.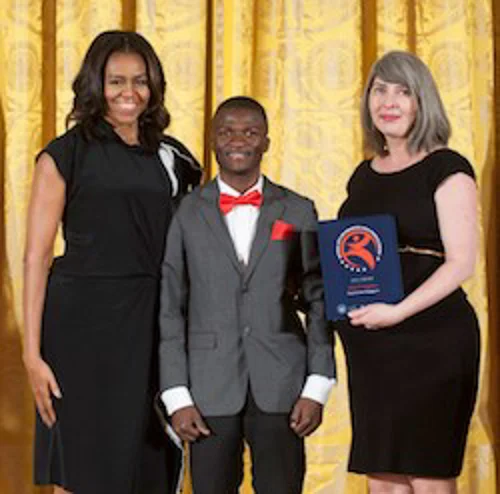 Shaffiou also shares his experience attending Scholar's Day 2015 in Washington D.C.
It means a lot for me to be an NSHSS member.
When I attended Scholar's Day, I was inspired by the many students I met there, and all the amazing works they have done–especially by those who have received scholarships and how their parents were proud of them. Since that day, I started to put more efforts in my study even though English was hard for me. I told myself that I will try my best to do like them. To help my community like some of them did, to do something in my school to help my peers like some of them did, and to achieve very high academically like many of them did.