NSHSS is excited to share details covering the 2015 Clinton Global Initiative University (CGI U). The meeting, hosted by President Clinton and Chelsea Clinton, brought together more than 1,000 innovative student leaders to make Commitments to Action that address some of the world's most pressing challenges. More than $500,000 in funding was available to select CGI U 2015 students to help them turn their ideas into action. Below are inspiring scenes showcasing how the students are bringing their commitments into action with GCI U:
We encourage our NSHSS members to share with us their experiences at CGI U and are honored to have received this insightful recap from NSHSS' very own student member, Ton La.
My CGI U Experience
Powerful. Enduring. Amazing. Those three words describe how my time at the 8th Annual Clinton Global Initiative University at the University of Miami was. Right now back in Houston, it's bitter cold. But, the moment I left the Miami International Airport and felt the sun hit my face and the breeze run through my hair, I knew that today would be a great day. On the shuttle bus to the hotel, I had the great pleasure of meeting Marvin Tarawally who was a fellow Resolution Social Venture Challenge (RSVC) semifinalist. When Marvin told me about his Commitment to Action, I was speechless by how a student could inspire such gratifying insight. In his home country in Liberia, children go through the school system to only find themselves without the necessary skills to succeed in the job market. He told me, "Education right now is not seen as a priority, and I hope that what my team and I are doing will completely change the school system infrastructure". For him, he came to the U.S. because he knew that an education will get him places. Over the course of the conference, I had the great pleasure of meeting people just like Marvin and what amazed me is just how young everyone was. High school, undergraduate, and graduate students all made Commitments to Action and as President Bill Clinton told us it is never too early or too late to make an impact in your community.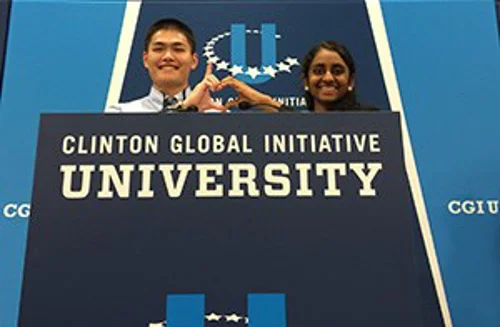 Later that day, I presented my commitment, Cougar Chefs, for RSVC with Brinda Penmetsa. What we want to do is recover leftover food from our university dining halls and local restaurants, re-make this food (along with food donations such as fresh produce and canned foods) into fresh meals at our campus kitchens, and make weekly deliveries twice a week to residents in the neighboring Third Ward community. If you look at a map of the Third Ward, the University of Houston is literally right next door. What inspired me to get involved is how different food access is between UH and the Third Ward. At UH, students have access to two dining halls and over 30 retail restaurants and never have to ask themselves if they can eat healthy, quality meals. In stark contrast, the Third Ward is a food desert in that there are zero supermarkets and instead several unhealthy fast food restaurants and a plethora of convenience stores which offer limited selections of food that are not particularly healthy. Moreover, meal delivery is not the only aspect of the Cougar Chefs program. We will be hosting frequent community and university educational nutrition and health workshops. Delivering meals is very important, but not combining this component with education is only going halfway. Showing community residents why eating healthy and leading healthy lifestyles are important along with meal delivery will, with time and dedication, eliminate the problem of food insecurity in the Third Ward in the next two decades.
After the semifinalist round, we first heard from Chelsea Clinton, Vice Chair of the Clinton Foundation and then Donna Shalala, President of the University of Miami. After, President Bill Clinton took the stage and welcomed students who have had enormous successes since presenting their commitments at past CGI U events. Gavin Armstrong, for instance, spearheads the Lucky Iron Fish project. What he was able to do is develop a piece of iron that resembles a fish which, when placed in a cooking pot, will release iron into the meal being cooked. After only nine months, Gavin was able to decrease the incidence rate of iron deficiency anemia by 50% in Cambodia! To end the day, President Clinton led a panel discussion with guest speakers Paul Lorem (Yale University student), America Ferrera (actress, producer and activist), Vivek Murthy (U.S. Surgeon General), and Tawakkol Karman (Nobel Peace Prize Laureate and Founder of Women Journalists Without Chains).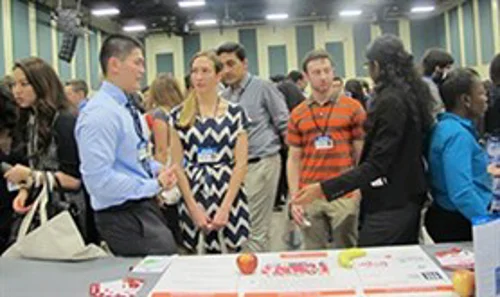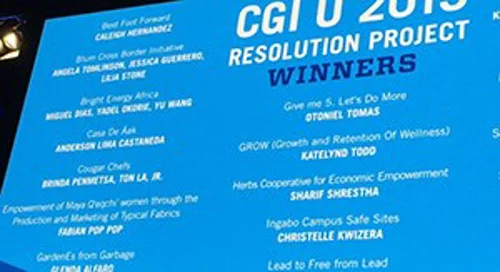 The next day, Brinda and I presented our project to a panel that included the President of RSVC George Tsiatis. As we anxiously waited for the results, we attended workshop and skill sessions. At around 3:38 pm, we both received an e-mail that we were selected as Resolution Fellows of Class 7. We were absolutely speechless - 191 teams from across the world applied, 55 semifinalists, 33 finalists, and 15 winners. We are the first winners ever from the University of Houston and I believe also from Texas! As I heard Chelsea Clinton congratulate the winners to an audience of 1000+, the moment for me was still surreal and moreover humbling. I have always wanted to give back to UH and even more to the Third Ward because it is a community that as students we do not get involved in as much as we should. As Resolution Fellows, the Cougar Chefs program will be receiving a grant and life-time support from past fellows and partners with RSVC.
Overall, CGI U 2015 has inspired me to do even more than what I am doing now. To have heard first hand that every panel speaker, at a young age, started with a small idea to later transform it to profound impact is second to none. You and I can make an impact. If you are committed to making lasting change in the lives of those around you or abroad, despite the obstacles and hurdles, then not only will you develop on a personal level, but also turn problems that affect entire societies into stories of the past. I would like to thank the National Society of High School Scholars for supporting me for many years now and I hope that my experience will inspire every NSHSS member to make their own Commitments to Action.