Dog sharks.  French magazines.  HP Prime calculators.  Field trips to the Museum of Tolerance and the Museum of Modern Art.  These are just a few of the creative ways ten dedicated Advanced Placement teachers used their $500 grants from the National Society of High School Scholars to make their curriculum exciting, meaningful and relevant.  More than 100 educators nationwide competed for these grants designed to support and enhance the delivery of AP courses.  Applicants came from all disciplines, with the winners representing biology, French language and culture, statistics, history, chemistry, art history and English language and composition.
Roderick Leak, an AP Biology teacher at TEACH Public Schools in Los Angeles purchased lab coats, dissecting kits, dissecting pans and a vertebrate set with dog sharks, turtles, pigeons and frogs.  As soon as he opened the buckets of specimens, students from all over the school flocked to see them.  As he pulled out the dog shark, there was a collective chorus of "wow!"  Because he was able to purchase the specimens and equipment he needed, "it dramatically increased the students' awareness of thorough studying for each section we test on in AP Biology."  The students passed their mastery connect tests with "exceeds mastery" rating on the standards covered in class.  Most of all, they gained a greater understanding of scientific research through hands-on laboratory experiments.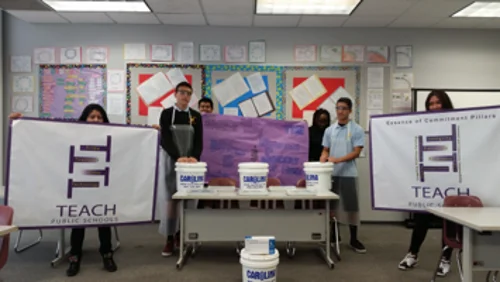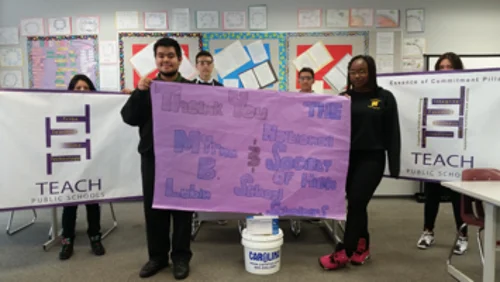 The Holocaust was teacher Rebeccah Kwon's vehicle for teaching the dynamics of prejudice, hate and discrimination, not just during the World War II era, but in more recent times as well.   Upon entering the Museum of Tolerance in Los Angeles, students assumed the identity of a Jewish survivor or victim.  As that individual, they interacted with the exhibits and posed questions to docents about the history of the Holocaust.  They learned about the selfless rescuers and aid providers who risked their lives to help the Jews and explored the power of words to create change, spark revolutionary movements and perpetrate violence against those who are different.  Kwon says her students were inspired by this experience "to be like those who were willing to help, rather than stay inactive or silent to a movement based on pure evil and hate."
First-time AP Language and Composition teacher Karin Cook struggled to find the "right balance between teaching the American Literature curriculum—rich with poetry and fiction—and the AP Language curriculum—rich with nonfiction essays, speeches, criticism, analysis of rhetoric and style, and writing that reveals pointed critical thinking and argument."  She used her grant funds to enhance her own professional development and support her students' learning by purchasing supplemental classroom materials on rhetoric, writing and literary criticism.  Her students "actually had fun reading" and "overwhelmingly agreed that the graphic guide to writing makes the complex material less intimidating."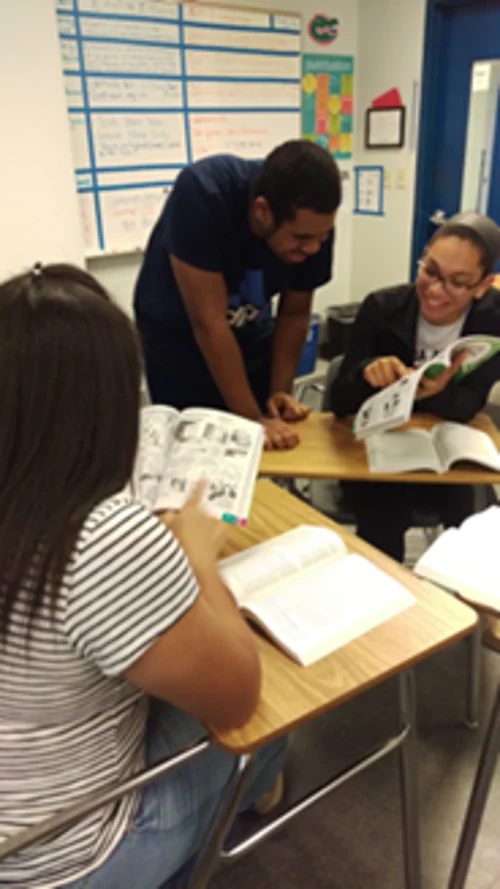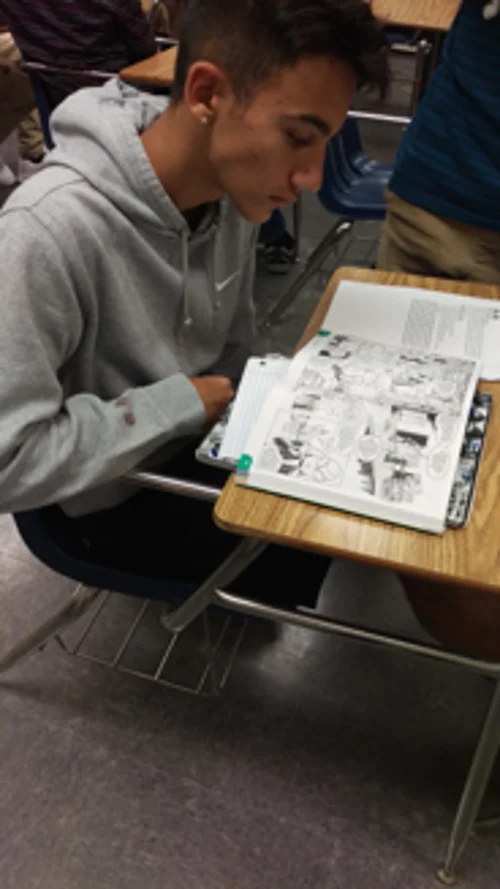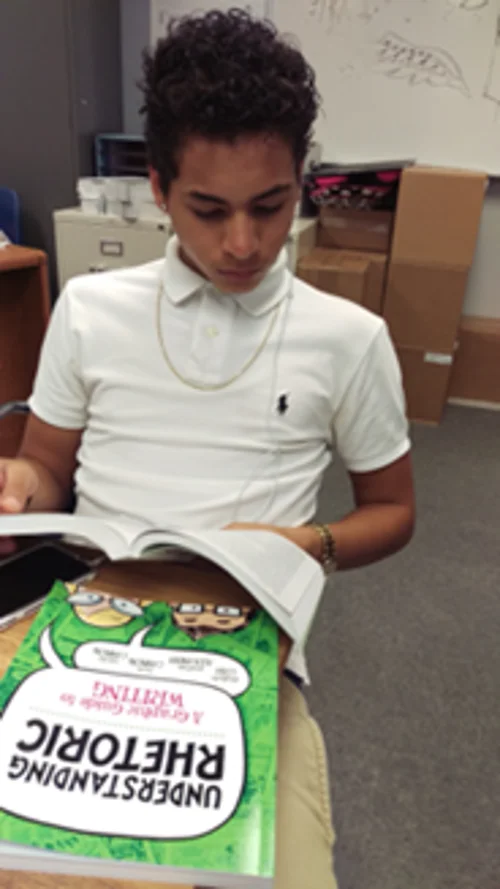 The AP French Language and Culture exam, redesigned in 2011, now requires the incorporation of more authentic documents and performance-based assessments.  Lacking a budget for textbooks, subscriptions or new materials, Shannon Porfilio used her grant to purchase texts to provide her students with extra practice in listening, speaking, reading and writing, including subscriptions to two French magazines.  She also chose to explore the AP themes of Family and Community and Personal Identities by purchasing DVD's of two contemporary French films.  The weekly French journal, 1jour1actu, provided contemporary context for the students, who were particularly excited to compare French and American environmental policies as they discussed and debated a recent French law forbidding the use of plastic bags.
Woodland High School, a low-income high school in rural Georgia, manages to beat the odds when it comes to science.  Although the school has consistently been named an AP STEM Achievement School for its AP Environmental Science program, only two students have passed the AP Chemistry exam at in the last 10 years.  Brandie Freeman sought to turn that around with her NSHSS grant.
Light spectroscopy is a practice whereby spectroscopes, when pointed at gas emission tubes, will break the light into its individual components and give students a unique "fingerprint" of lines from each element.  Ms. Freeman purchased new spectroscopes and gas emission tubes to help her students better understand this "Big Idea":  "Different types of molecular motion lead to absorption or emission of photons in different spectral regions. . . Ultraviolet and visible radiation is associated with transitions in electronic energy levels and so can be used to prove electronic structure."  Using the new equipment sparked curiosity about the phenomenon students observed before hearing Ms. Freeman's lecture.  As she said, "having these tools. . .  assisted me in fulfilling my teaching philosophy of 'explore before explain'."
Although they live just 20 miles from Manhattan, a high percentage of Virginia Gunther's students had never visited a museum there.  The New Rochelle High School AP Art History teacher used her grant to take 22 students to the Museum of Modern Art and the new Whitney Museum.  The students explored the impact of industrialization and rapid change on late 19th century European art and the effects of technological developments and global awareness on contemporary art.  According to Ms. Gunther, these field trips had an additional and far-reaching impact:  "they led to a bonding experience within a diverse learning environment that transcended the classroom.  Students continue to discuss learning objectives and introduce other students outside the classroom to the world of art history."  And this, as Ms. Gunther emphasizes, is what learning is all about.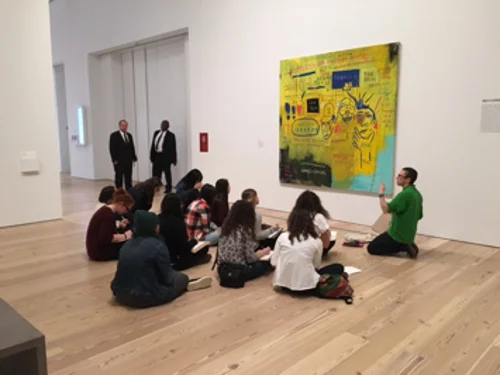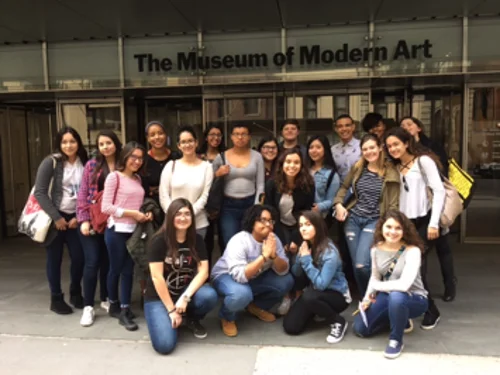 After attending a three-day workshop sponsored by Hewlett Packard, AP Statistics teacher Susan Hvizdos could not wait to get her hands on the state-of-the art HP prime graphing calculators.  With its innovative touch screen and revolutionary wireless connectivity kit, Ms. Hvizdos was convinced the calculator would revolutionize the way she taught AP Statistics.  And, it did!  Using the calculators, students were able to discover the importance of multiple representations in mathematics.  They liked the calculator's straightforward design and loved the touch-screen component which enabled them to scroll through menus, pinch graphs, and copy/paste spreadsheets.  Using the wireless connectivity kit, Ms. Hvizdos was able to send her students programs, apps and messages, allowing additional time for classroom discussion and analysis.  Thanks to this cutting-edge technology tool, Ms. Hvizdos met all her teaching objectives. 
The Advanced Placement program aims to challenge high school students with college level coursework.  Unfortunately, it also challenges AP teachers to assemble the necessary resources, materials and equipment to successfully teach this rigorous curriculum, especially in the sciences.   That's why AP Chemistry teacher Kevin Cram turned to NSHSS for assistance in purchasing up-to-date lab equipment for his classroom.  With new Vernier LabQuest hardware and probes, his students were able to "explore how intermolecular forces effected evaporation, accurately measure the pressure of experimentally collected gases and compare experimental data to calculations and use conductivity data for various salts in solution."  In short, where lessons were previously theory or lecture-based, they were now grounded in actual laboratory experiments.  Students not only interpreted and graphed their results in real time, they actually began to see themselves as real scientists.  
The thirty-three students enrolled in Jennifer Rogers' AP Literature and Composition class in Phoenix, AZ are poor.  Some are homeless.  Many come to school hungry, wear the same dirty clothes from the day before, and struggle to get to school on time via public transportation.  Once at school, an all-time low per pupil budget allocation means there are not enough desks, books or basic supplies to go around.  Undeterred by these challenges, Ms. Rogers sought funds to purchase a HoverCam T3 document camera, AP Literature flash cards and scripts of Othello for her class.  Best of all, she was able to take them to a performance of the play at the Southwest Shakespeare Company, which students said was the best experience they'd had all year.  Further proof of the value of this investment, over 90% wrote about Othello on their AP Literature exam.
Leslie Walker's rural high school students know what crime scene investigations look like on television, but never expected to encounter forensic science in their AP Chemistry class.  Thanks to the 6 well gel electrophoresis apparatus and micropipettes Ms. Walker purchased with her NSHSS grant, her students learned the basic steps in DNA fingerprinting and pipetting.  With this equipment, students were able to apply common techniques in biotechnology and grasp difficult genetic concepts.  More importantly, they were excited about the process.  Next time they watch CSI, they will not only understand the science behind the mystery, they will be able to picture themselves as the scientists solving the puzzle. 
2015-16 NSHSS Advanced Placement Grant Winners
Karin Cook, AP Language and Composition, J. P. Taravella High School, Coral Springs, FL
Kevin Cram, AP Chemistry, Lake View High School, Chicago, IL
Brandie Freeman, AP Chemistry, Woodland High School, Cartersville, GA
Virginia Gunther, AP Art History, New Rochelle High School, New Rochelle, NY
Susan Hvzidos, AP Statistics, Wheeling Park High School, Wheeling, WV
Rebeccah Kwon, AP European History, Frontier High School, Bakersfield, CA
Roderick Leak, AP Biology, TEACH Tech Charter High School, Los Angeles, CA
Shannon Porfilio, AP French Language and Culture, Foothill High School, Pleasanton, CA
Jennifer Rogers, AP Literature and Composition, Cortez High School, Phoenix, AZ
Leslie Walker, AP Chemistry/Environmental Science, Foreman High School, Foreman, AR