NSHSS was proud to sponsor a session at the National Conference of the American Association of Blacks in Higher Education (AABHE) titled, Insights on Academic Success from High-Achieving African-American Millennials, on April 9-11, 2015 in Charleston, SC.
NSHSS Vice President Beth Pann began the session with a summary of the opinions of 3,400 African-American NSHSS members who participated in the 2014 NSHSS Millennial Career Survey. The top four majors of choice include medicine and health services (29%), sciences (13%), business (13%) and engineering (12%). Eighty-five percent of NSHSS African-American scholars plan to attend graduate school, compared to 80% of all ethnicities among NSHSS members.
NSHSS Director of University Relations, LaShandra Little, moderated a panel discussion regarding pathways to academic preparation, recruitment, retention and academic success for Black students. The panel included NSHSS members Brandi Jones, Jeanette Refour, and Donnie Pulliam.
Brandi Jones, a Kennesaw State University graduate who is working on a master's degree at Clark Atlanta University, said, "As a scholar-athlete signed to attend a Division I university, my membership in NSHSS served as international recognition for academic achievements often overshadowed by athleticism. Scholarship is at the core of my identity, and I am months away from receiving my Master of Arts in English. NSHSS enables students to become scholars who continue educational, personal, and professional development long after terms such as 'athlete,' 'musician,' or 'artist' are no longer a part of one's public persona."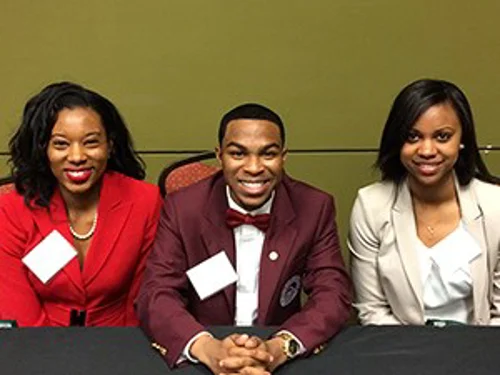 NSHSS scholar Donnie Pulliam, who was awarded the Di Yerbury Scholarship and Ambassador Scholarship, shared how his experience as a Morehouse College student is helping to shape his personal brand. As a Political Science and Economics major, Donnie plans to become a Federal Prosecutor.
Jeanette Refour, a senior at the University of Georgia, is pursuing a triple major in Criminal Justice, International Affairs and Psychology. Jeannette spoke about her experience transitioning from a small arts-focused high school to a large public university and the value she has found in joining campus groups such as the Black Affairs Council that supports cultural diversity and relationship-building with other student organizations.
NSHSS will continue to engage our high school and college members in panel discussions at higher education and corporate conferences throughout the year.