I have two words of advice for anyone who has even the slightest desire of adventure tugging at their heart: just ask. There are basically no consequences for "just asking," but many people don't make the effort because they fear rejection, or they fear the unknown. In the beginning of my senior year, I was a stressed student who had never been out of the country, off the west coast, or even on an airplane. Amidst the essay rubrics, college planning books, and AP and SAT study guides handed to me, I was also given a flyer for a service learning trip to Greece. Part of me was certain that I would never be able to go, but luckily something compelled me to "just ask." So that's what I did.
My English teacher was the coordinator of the trip, through a larger (and amazing) organization called Bright Light Volunteers. I told her that I wouldn't be able to pay for the cost of the trip, and my parents would be very hesitant to let me go (both pretty big factors). In that moment, a new path opened up for me. If I had never approached my teacher about the trip, I would never have gone on an airplane, stood on ancient ruins, helped Syrian refugees, swam in the Aegean Sea, or -most importantly- discovered and solidified my passions for travel, service work, and teaching. My whole journey had to begin with that seemingly simple, yet daunting task of asking. Of course, there were more steps to take after this.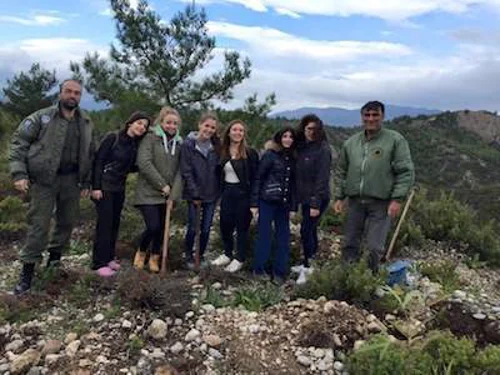 After asking my teacher, she found a donor who was willing to donate almost two thirds of the trip expenses to me; I was able to win a scholarship for one third of it, and for the remainder, I sold little pins I had made using the school printer and button maker.
The trip was only ten days, but those ten days changed me more than the 17 years I had been alive. I had turned a slight possibility into a reality. And every day, every experience was proof of this reality. You can hear about something on the other side of the world, but it remains a story, or a statistic, that eventually fades from your sphere of awareness. Before the trip, I knew that Greece was in an economic downturn and I knew about the serious problems arising from the increase of refugees, but I had no way of personally connecting to either. But through this trip I witnessed the distrust in government, the "anarchy" symbols graffitied in alleyways, and I was able to hear the individual experiences of the refugees. People like to dehumanize global issues, because it makes the problem easier to swallow. But I got the opportunity to put faces to those issues and it was an eye opening realization.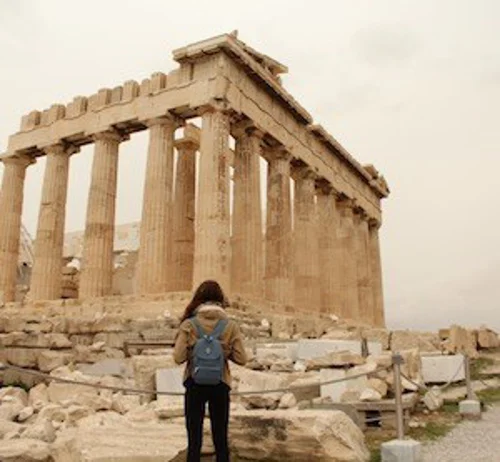 I climbed to the top of the Athens Acropolis to the Parthenon, I ate real Greek yogurt, I walked in the moat of a castle in Rhodes, and learned traditional Greek dances. BUT, those incredible experiences were not as important to me as the connections I made with the people I met there.
At first glance, travel seems to be about locations and activities, but in the end it's all about the people. People like the students our age in Rhodes who were surprised we "don't have museums like this" in America. Like the Syrian refugees who were extremely humble and appreciative, especially one teenage girl, who translated for us after teaching herself English from American action movies. Like the elderly married couple living in a tiny house that was crumbling down, but were happy to show us that they had been married for 55 years, even though neither one spoke a word of English. And, like the mayor of Rhodes who personally thanked us for our service work. He was surprised that we had volunteered to help, which to us was a first step in spreading the desire to reach out around the world and help people.
By planting trees, painting an elderly couple's house, bringing donations to refugees, helping students with their English, cleaning a school for the disabled, and building dog houses for an overcrowded shelter, we not only helped those individual groups, but we also demonstrated what we believe in: global service and a love of humanity.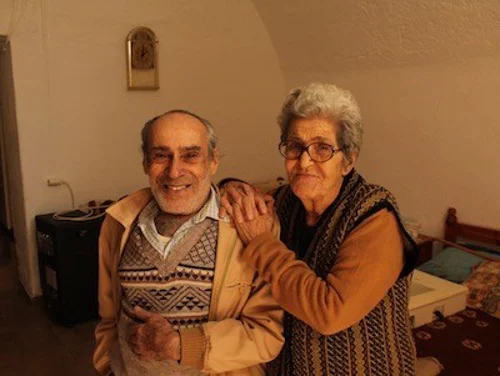 I can happily say that after the trip I was able to decide what I wanted to do with my life. I plan to get my teaching credentials at Santa Clara University in the Future Teachers Program, which gives me incredible financial aid in exchange for teaching for 5 years in an under-served community. This is not a problem for me, since I already wanted to teach abroad in countries that need English teachers. I've said it many times, but sometimes you need to "Just ask" yourself -what do you really want to be doing with your life, and how are you taking steps right now to get to there?
About Nicole Dully
NSHSS Member Nicole Dully is a student at Santa Clara University, majoring in Liberal Studies with a pre-teaching emphasis. She hopes to be an elementary school teacher, and is proud to be a part of the Future Teacher Program at SCU. Her service project in Greece has inspired her to pursue a new dream of teaching abroad in under-served communities. Nicole is a graduate of Pleasant Valley High school in Chico, California. She is also the winner of the NSHSS Class of 2016 T-Shirt Contest. Nicole used the $250 Amazon gift card she won as part of her prize to purchase supplies for her service project in Greece.