Featured in this NSHSS Member Spotlight is Samir Nacer, a well-versed Student Council Member of NSHSS. Samir Nacer is a graduate of Oasis High School in Cape Coral, FL and a current student at Nova Southeastern University.
Samir received an Earth Day Award in 2014 in partnership with the Captain Planet Foundation, and also received the CCP College Prep Programme scholarship that allowed him to experience 3 weeks in Europe with other fellow NSHSS members. He is a former NSHSS Ambassador State Director and a recipient of a 2015 NSHSS Ambassador Scholar Award. Below, Samir shares why he thinks his membership with NSHSS is worth it.
Reflection as an NSHSS Member
NSHSS has provided me remarkable lifetime opportunities. Not only have I been fortunate enough to develop my leadership skills at local conferences and seminars hosted by the National Society of High School Scholars, but I have also represented the organization at events within my university. I stay up to date with local events and as a Florida State Director, I have stayed in contact with students who are trying to create events within their communities.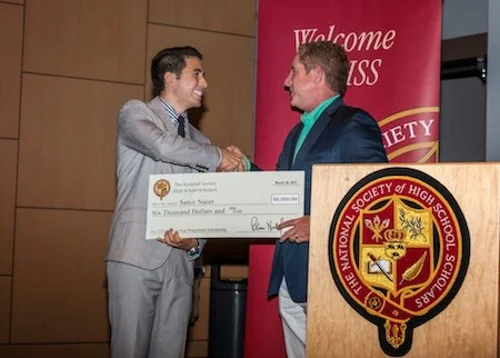 To say I have been fortunate is an understatement. I have traveled the world via The Cambridge College Prep Program where I took a British Intelligence and Espionage Course along with a Writing Course focused on Natural Ambiance. What was most compelling was that it was a full tuition scholarship which allowed me to focus on the culture of France and England without worrying about expenses back home. From Monet's garden to Bankseys Musuem, my perspective changed on true cultural exchange and the importance of Rhetoric. It taught me to find the right words with each person I meet.
If it was not for this organization, I would not have been fortunate enough to have finished my first year of undergrad without a financial burden. NSHSS has proven to me from my initial membership that it truly cares about the success of the millennials on a global scale. So much so, that I have asked for their help again this year through their scholarships.
In summation, any organization that believes and supports the dreams and aspirations of students wanting to make a difference in the world is an organization worth being part of. An organization that reminds young adults to always do the right thing, even when nobody is watching.