Jody Zepp
Teacher & Instructional Team Leader for Social Studies
Long Reach High School, Columbia, MD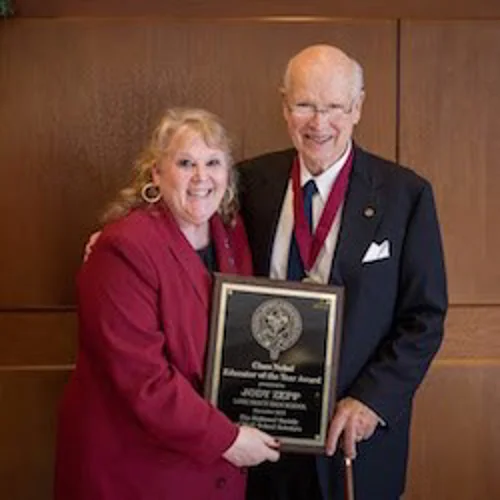 Ms. Zepp began teaching Advanced Placement courses in 2000. She has taught AP psychology, AP U.S. government, and AP comparative government. Ms. Zepp is also the founder of AP Summer Boot Camp. Ms. Zepp earned a Bachelor of Arts in political science degree from McDaniel College and a Master of Arts in political science degree from Syracuse University. She is a member of the National Network of State Teachers of the Year and serves as part of a three-member panel for Congressional Briefing on Educational Policy. Ms. Zepp has served as the commencement speaker for Towson University and as the keynote speaker for the Parent Involvement Matters Awards, the Maryland State Education Association Convention, the Association of Supervision and Curriculum Development, and an array of other professional conferences. Ms. Zepp has coached her school's EconChallenge team–earning three state championships. She was recently named Maryland's 2015 Teacher of the Year.
NSHSS is proud to announce that Ms. Zepp is the 2015 Claes Nobel Educator of the Year. Ms Zepp was recognized at the annual Carter Center NSHSS Member Event in Atlanta, GA, on December 5, 2015. Upon her acceptance of the Educator of the Year Award, she addressed the students, parents, and educators in attendance. Ms. Zepp describes her perspective on education as, "My pedagogical philosophy begins with the fundamental precept that every student sitting before me is capable of learning. In psychology, we speak about learning as the relatively permanent change in behavior as a function of experience. So it is the experience that precedes all else. I have found that significantly little happens in the classroom apart from relationships and, therefore, providing a learning experience must begin with relationships which include content, coherence, critique, and compassion."
Ms. Zepp has been nominated three times by her students as an Educator of Distinction.  One of her nominating student writes, "Jody Zepp is the most adaptable, fun-loving, hard-working teacher in our high school. She is wonderful, kind, and supportive, and makes the lessons fun, which encourages us to try harder. She is a very upbeat, funny, and outgoing teacher who has a very close bond with her students and makes learning a wonderful and entertaining experience for all of us. She is the teacher we all look forward to seeing every day." Dr. Renee Foose, Superintendent of Schools in the Howard County Public School System adds, "Ms. Zepp exemplifies everything that NSHSS stands for–dedication to helping students reach their potential, command of the curriculum, her relationship with students and staff, and passion to make a difference. She is an incredible representative of what makes Maryland's schools among the best in the nation."
Claes Nobel Educators of the Year
NSHSS and the NSHSS Foundation is pleased to highlight our 2015-2016 Claes Nobel Educators of the Year, presented to ten exemplary educators who have demonstrated an outstanding commitment to preparing students for success in college and in life.  These ten educators are among NSHSS's student-nominated Claes Nobel Educators of Distinction, a program that recognizes educators who model best practices in teaching, are a positive influence for students and peers, and demonstrate outstanding leadership in education and community engagement.  Since the inception of the Educators of Distinction program in 2004, NSHSS has recognized more than 38,000 educators worldwide.