Enter The Best School Year Ever® contest and you could win one of 12 scholarships for Grade 8-12 students to study and live on campus for the 2020-21 school year at St. Michaels University School in Victoria, British Columbia.
This is your chance to win:
The grand prize – a full-year boarding scholarship worth $60,000 CAD
One of three finalist prizes – boarding scholarships worth $40,000 CAD
One of eight runner up prizes – boarding scholarships worth $25,000 CAD
It's an experience you don't want to miss out on, but don't just take our word for it. Check out the answers from high school students just like you who landed scholarships to live and study at SMUS!
Why did you enter the contest?
"I wanted to go to a high school for Grades 11 and 12 at an institution that provided a good education and a different learning experience. I remember getting the Course Selection Guide and thinking, 'How am I supposed to choose?' It blew my mind how much choice I got here." – Tessa Rehill, 2017 finalist
What do you like most about boarding life?
"I like being able to go back to an environment where you're surrounded by people who can help you in any way possible. If you need help in academics, you have a roommate who can help, or you have houseparents who teach the subjects. If you need help with sports, you have coaches on deck ready to help. If you need help with your social life, you're surrounded by friends. Anything you need, boarding has." – McEnroe Jean, 2018 finalist
"Having this shared experience, it creates a really strong bond. We all have one thing in common: we're all living away from home. We all still have family at home, but you want to have both feet planted at SMUS so we support each other where your family would at home. I just absolutely love how much family I have here. Sometimes I sit in my room and I'm like, 'Wow! I'm actually here.'" – Abby Samuels, 2018 finalist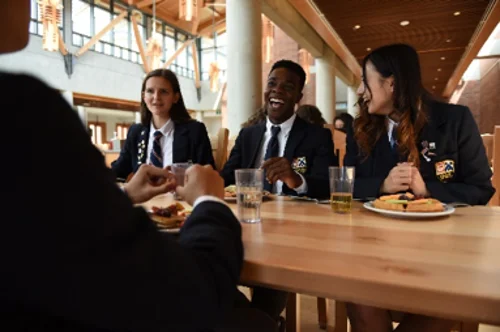 Why should other high school students enter the contest?
"Entering The Best School Year Ever contest is the best investment I have ever made, and probably ever will! Those 10 hours I put into the planning, filming and editing of that very first video – those 10 hours, took my life to another reality. The people I met and the things I did, they changed my life." - Santiago Mazoy, 2014 winner
"I would encourage all students to apply! It truly is an incredible school and you will grow so much while there. There is so many new experiences you can explore and it's an amazing stepping stone to prepare for university. When you are in an environment where everyone is pushing for greatness, you will also find yourself working for your goals. The drive for academic success is there at SMUS and it is definitely contagious!" - Meg Montgomery, 2016 finalist
Was your time at SMUS been The Best School Year Ever?
"My time at SMUS was one of the most constructive experiences I had during high school. Especially moving to SMUS during the most important time of my high school career, I was given the freedom and flexibility to learn and grow in a new environment. There were challenges along the way, but overall my time was very conducive to making lasting friendships and reaching my academic goals."  – Leah Balter, 2016 finalist
For more details on the contest and on how to apply by January 6, 2020, visit bestschoolyearever.ca or text BSYE to 555888 (message and data rates may apply).