Alabama is an excellent place to attend college. The state is home to many universities and colleges in towns like Birmingham, Huntsville, and Montgomery.
Alabama is also a place with rich history, art, and culture present in its institutions. With its warm weather, focus on education, safe neighborhoods, and aesthetics, attending a university or college will provide the perfect environment to enjoy a rich educational experience. 
Want to further your education in the state of Alabama? Here are some of the best colleges and Universities you should visit. 
University of Alabama 
The University of Alabama is the oldest, most populated, and the best in the state. It was founded in 1831 as a research-centered institution located in Tuscaloosa, one of the best places to live within the state. The University of Alabama offers more than 100 majors to study in eight different schools and colleges.  
The institution is ranked #132 among National Universities, #1 on the Top 51 Best College Bars in America, and is placed at the top for Online Engineering Ph.D. programs. As a research school whose aim is academic excellence, all students at UA can participate in projects. Not only that, a percentage of full-time students are eligible for scholarships and other forms of need-based financial aid. 
A campus tour of the University reveals an atmosphere rich in culture and essential traditions. These events allow students to develop a kin spirit of fellowship and family. Students are not left alone after graduation; the Alumni Association and the school body work hand-in-hand to prepare students and provide career opportunities and connections after graduation and beyond. 
Auburn University
Located in the town of Auburn, Auburn University is the second-largest university in the state. It was founded in 1967, and it is a public grant-based school. Taking a campus tour around the University will help you appreciate the beauty of the campus, which is structured towards an eco-friendly setting.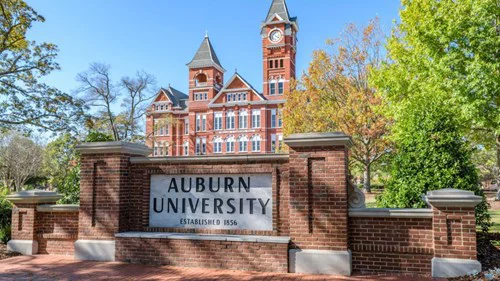 Auburn university is one of the most prestigious schools in the country that offers Engineering. It is also ranked as the #1 most popular institution in the state for Architectural Engineering programs. Students who attend Auburn University are embraced in the warm spirit and traditions that create an environment to thrive both socially and academically. 
Based on its academic reputation and rank as the happiest campus in the country, Auburn University is a valued school that is worth applying for. 
The University of Alabama at Birmingham 
Alabama State University Birmingham is not only one of the best universities in the state but is also an internationally acclaimed research school. The institution was founded in 1969 and is ranked #3 in Best Dental Schools in the US, #4 in Top 35 Schools for a Graduate Degree in Public Health, and #148 in National Universities. 
Although the institution is best known for its medical schools and innovative research programs, it also provides an excellent education in various fields such as business and the sciences.