Many Colleges and Universities in Georgia offer outstanding opportunities for international students to balance education and work on a cost-efficient basis. Also, the standard of living in the state is very moderate compared to other regions in the United States. 
The state of Georgia also serves as a travel hub to many member students across the world. This is due to the possibility of getting part times jobs, while also studying in the place.
Moreover, colleges in Georgia offer a diverse range of STEM (Science, Technology, Engineering, and Mathematics) courses with practical experiences to support learning, among other fantastic benefits. This justifies the reason more students choose the school on yearly basis. 
Below are some Universities and Colleges in Georgia and why they stand out among other schools,  as well as why they need to be explored. 
Georgia Institute of Technology
According to 4icu 2021 statistics, the GIT is ranked the best among the universities in Georgia and 38th in the national ranking. The institution offers programs and courses leading to Bachelor's degrees, Master's Degrees, and Doctorate degrees in many fields. Its admission rate ranges from 20-30 percent. 
Kennesaw State University 
Some notable alumni of this institution include Willi Harris (Professional Baseball Coach), Ty Pennington (Television Host), and Nick Ayers (Political Strategist). The school also offers financial aid, scholarships, exchange programs, and online and distance learning programs to local and international students.
Emory University 
The institution is situated in an urban setting, and the campus size is about 400 acres. It also has six colleges, including a graduate school, among which the College of Engineering and the College of Business are top-ranked. The institution is very notable and active in research, with the Georgia Technology Research Institute being a research hub for Aviation industries, like the aviation industry, and the government. 
Savannah College of Art and Design 
This university is situated in an urban area of the small city of Savannah (whose population is approximately 50,000), Georgia. SCAD has additional campuses in Atlanta, Georgia; Lacoste, France; and online programs through SCADnow. All SCAD courses are accredited by the Southern Association of Colleges and Schools Commission on Colleges.
University of Georgia
This institution adopts a selective admission policy based on entrance examinations and applicants' past academic records, and its admission rate ranges from 70-80 percent. The school also offers academic and non-academic services such as financial aid and scholarships, exchange programs, online courses, and housing. 
Furthermore, the school offers on-campus safety and security services such as late-night escort service, all-day security patrols, pathway lighting, 24 -hour emergency phone calls, among others.
COLLEGES/ UNIVERSITIES IN ATLANTA  
Colleges in Atlanta are mostly located in the metro area, with many of them offering STEM courses. In terms of safety, they assure that the security of their students is effectively coordinated. 
Below are some universities you should check out in Atlanta.
Clark Atlanta University 
This is a private institution situated in an urban area with a campus size of 126 acres. The school utilizes a semester-based academic calendar and is ranked 299-391 among National Universities with a total undergraduate enrollment of 3,096 based on fall 2020 statistics. The university currently offers about 40 courses, including graduate programs in business and education. 
Georgia State University 
Students in this University can utilize services such as internships, career fairs, resume perfection, mock interviews, among others, through the school's Career Planning Centre. The school also has more than 60 campus clubs and organizations. Among the notable alumni of this school are Julia Roberts, Ludacris, and Ken Lewis.
NSHSS PARTNER SCHOOLS IN GEORGIA/ATLANTA
There are some Colleges and Universities in Georgia that are being covered by NSHSS (National Society of High School Scholars). Students who are studying in any NSHSS Universities/Colleges often enjoy leadership experiences and scholarship opportunities. Few of these Universities/Colleges include the Georgia Institute of Technology and the Savannah College of Arts and Design.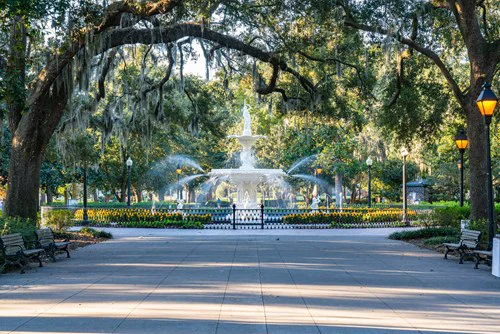 CONCLUSION
Georgia is known for educational sightseeing, and students in the town often prefer to go on campus tours or campus visits to the charming city of Savannah. This place houses the Savannah Victorian Historic District, one of the popular Historic Landmark Districts in the United States.
Other places are the cities of Macon, Stone Mountain, the ancient city of New Orleans, among others. These reasons, among others, make Georgia and Atlanta incredible places for university students.