You Want to Be a Doctor? Here is the Average Salary for Each Medical Specialty
Are you a high school student considering becoming a doctor? Physicians can make a lot of money, especially those in high-demand or challenging medical specialties. However, whether you are still in high school student or even a premed student, be careful making a life decision based on money alone. It takes a lot of time, hard work, and money of your own just to get there.
There are many factors to consider when exploring a medical specialty, including the competitiveness of the field, length and type of training, work setting, and work-life balance. And yes, how much money you can make by becoming a doctor can be important, too.
Doctor Salaries in 2020
According to the Medscape Physician Compensation Report 2020, physician incomes continue to rise. Primary care physicians (PCPs) earned an average of $243,000 in 2020 while specialists earned an average of $346,000.
MedSchoolCoach, a personal coaching service that provides pre-med and medical school admissions consulting services and tutoring, compiled data on the specialties that pay the most.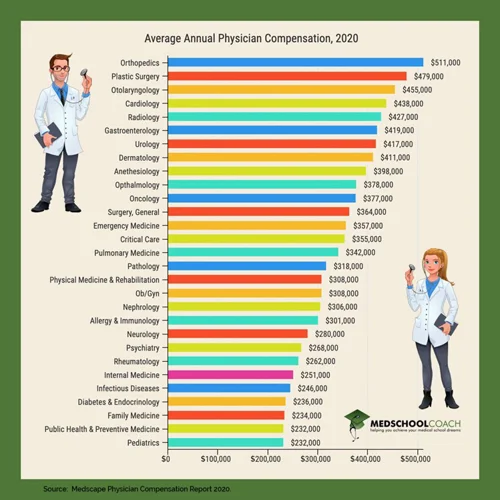 Orthopedic surgeons are at the top of the list, earning $511,000 per year on average, with plastic surgeons coming in second at $479,000 per year on average. Public health and preventative medicine professionals are at the bottom of the list making closer to $200,000 per year. These differences are sizeable. An extra couple hundred thousand dollars a year for a 30 to 40 year career can add up.
Note: Just because you're going into ortho doesn't mean you're going to make five hundred thousand. And just because you're going into pediatrics doesn't mean you're going to earn two hundred thousand. There is a large fluctuation in compensation based on a variety of other factors, ranging from location to healthcare setting.
Considerations When Choosing a Career as a Doctor
While salary is important, so are other considerations, like work-Life balance. In addition to being a doctor, you still need to find time for family, friends, and hobbies. Here are some factors to keep in mind when choosing a medical specialty:
Medical Training – Think about length and type of training time. Residencies such as pediatrics require a three-year residency whereas neurosurgery requires a seven-year training program. How many years of your prime are you willing to trade in for education?
Medical Specialty Competitiveness – For interventional radiology, there only 136 openings available per year in the entire United States! In contrast, there are 1,804 anesthesiology openings per year.
Access to Patients – Most physicians practice some form of clinical medicine. A lot of that time is spent seeing patients, charting patients, and mental efforts thinking about patients. Plus, being on-call all the time is a strong consideration. Not all specialties are equally as demanding.
Location, Location, Location – Where do you want to live? Do you want to work in a busy hospital in a major medical center or a cozy office in a rural clinic? Would you prefer a high stress operating room or a quiet exam room?
Research Opportunities – Do you have a desire to pursue academic research? This will impact the number of publications, presentations, conferences, and papers you're involved with throughout your career.
Managing Your Healthcare Education Finances
Most medical school applicants have undergraduate debt and medical school debt. Plus, they defer that debt while they're still in school, so they don't start paying it off for a while. As premeds become residents, they "only" earn between $40k to $70k.
According to MedSchoolCoach, electricians will actually accumulate a higher net income than doctors for the first 26 years of their lives after high school.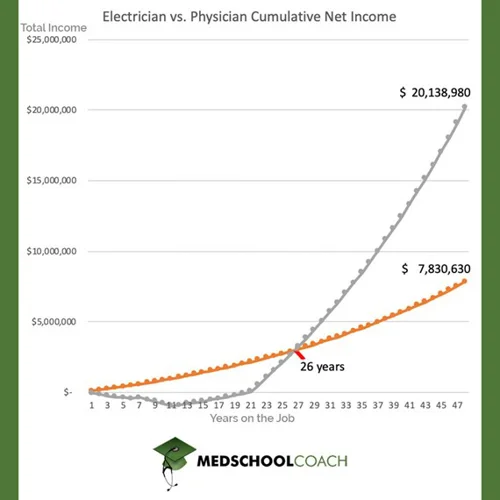 Still, for those who are patient, a doctor will earn up to $12 million more over their career. Here are the annual salaries of the most common medical specialties.
Allergy & Immunology – $301,000
Anesthesiology – $398,000
Cardiology – $438,000
Critical Care – $355,000
Dermatology – $411,000
Diabetes & Endocrinology – $236,000
Emergency Medicine – $357,000
Family Medicine – $234,000
Gastroenterology – $419,000
Infectious Diseases –$ 246,000
Internal Medicine – $251,000
Nephrology – $306,000
Neurology – $280,000
Ob/Gyn – $308,000
Oncology – $377,000
Ophthalmology – $378,000
Orthopedics – $511,000
Otolaryngology – $455,000
Pathology – $318,000
Pediatrics – $232,000
Physical Medicine & Rehabilitation – $308,000
Plastic Surgery – $479,000
Psychiatry – $268,000
Public Health & Preventive Medicine – $232,000
Pulmonary Medicine – $342,000
Radiology – $427,000
Rheumatology – $262,000
Surgery, General – $364,000
Urology – $417,000
If you'd like to learn more about becoming a physician, download the free guidebook: The Pre-Med Journey: What it Takes to Get into Medical School.