Breanna Mack, Marketing Coordinator, Reflection of MLK's 50th Commemorative Anniversary in Memphis, Tennessee
Date:
Friday, April 6, 2018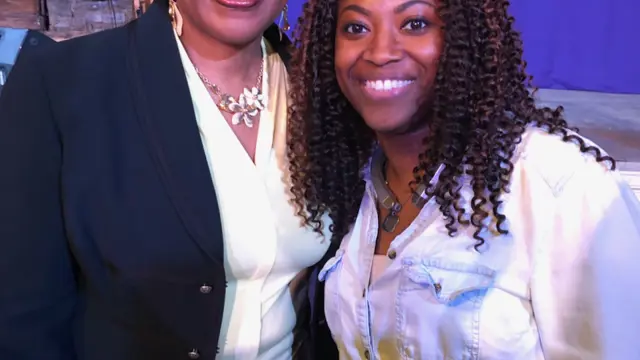 Her Relationship with Dr. Martin Luther King Jr.
Growing up in the south, there were racial injustices many African Americans faced. Segregation was widespread in many public facilities such as schools, restaurants, and buses. Dr. Martin Luther King Jr. recognized this racial inequality and fought to bring justice to African American people.
Ever since I was a little girl I would hear stories, in school, from my father and grandmother, of Dr. Martin Luther King, Jr.'s struggle to revolutionize African American equality in the south. My father's side of the family grew up in Montgomery, Alabama where civil rights marches and bus boycotts took place. My grandmother participated in the Montgomery bus boycotts during the time that Dr. Martin Luther King Jr. and Rosa Parks took a stand for African American rights on public transportation. My great uncle stood with Dr. Martin Luther King Jr. in the march from Selma to Montgomery, to establish equal voting rights for African Americans.
Fast Forward to MLK's 50th Anniversary
This past week I was selected to tour the King Center, in Memphis, Tennessee, to commemorate the 50th Anniversary of Dr. Martin Luther King Jr.'s assassination. I was thrilled because my family has rooted history in Dr. Martin Luther King Jr.'s movements in Montgomery, Alabama. My experience tracing Dr. King's last moments in Memphis, where he was shot and killed on the balcony of the Lorraine Motel will forever resonate with me.
Dr. King's youngest daughter, Dr. Bernice King, shared captivating memories and speeches of her father that gave more perspective on Dr. King. She recanted preceding speeches and spoke of a succeeding speech that was slated to be "America may go to hell". During my tour, I learned Dr. King was in Memphis to support the sanitation workers strike for better working conditions. At the close of my tour, I gained more perspective on Dr. King's imprint. Upon his death, his imprint grew larger and to this day, the MLK holiday is the only holiday dedicated to a single individual.
The Private Tour with MLK50 Better Together Group
During the week of April 2nd, 2018, a group of Memphis pastors and Dr. Bernice King commenced the MLK50 Better Together event in Memphis, Tennessee. I toured the city of Memphis, tracing the last steps of Dr. Martin Luther King Jr.'s final days before his untimely death on April 4th, 1968. Dr. Bernice King shared fond memories of her father, as she was only five when her father was assassinated. It was a pleasure to attend this event and gain more perspective on the man who commenced the civil rights movement for African Americans. Without Dr. Martin Luther King Jr. my family would have continued to endure segregation and I wouldn't be in the position I am today.
The tour began at the National Civil Rights Museum, where Dr. Bernice King viewed her father's work and live video coverage of his assassination. Words could not describe the somber atmosphere as she witnessed and relived the traumatic experience from when she was only 5 years old. She still struggles to grieve the death of her father, quoted "As we continue to go through the grieving process of a parent we have yet to be able to bury". She noted in the wake of her father's death she had a great deal of anger at her family, God, and white people, she held them responsible for her father's death.
A Night of Remembrance 
On April 3rd, 2018 Dr. King, friends, and pastors gathered together at the Mason Temple: Church of God in Christ, the church where the late Dr. King gave what would be his last speech, "The Mountaintop".
This gathering was to eulogize his speech and reiterate the work he began has yet to be completed. Dr. King spoke about a succeeding speech intended to be given on Sunday April 7th, 1968, slated as "America may go to the hell". She discussed his speech would prophesize three evils determined to doom America, racism, poverty, and militarism, a topic mentioned by the late Dr. King just one year earlier. His speech quoted, on April 4th, 1967 during the Vietnam war, "A country that continues year after year to spend more money in military defense than on programs of social uplift is approaching spiritual death". Dr. King heavily reiterated, these three evils are still amidst America today as she quoted, "Militarism has robbed us of the necessary resources to deal with the social discrepancies in our nation […]".
Dr. Martin Luther King's Lasting Legacy
The movements Dr. King started are still resonating today as we see them in modern day protests such as Black Lives Matter, a movement rooted from the sanitation workers strike in 1968. During this time sanitation workers were undergoing harsh working conditions, long hours, and low wages. Their common meeting place was at the Clayborn Temple, an African Methodist Episcopal Church. Here, sanitation workers first created I AM A MAN signs, declaring their need for civil and human rights. The underscore of "AM" is meant to emphasize the inherent humanity and claim to human and civil rights. Dr. King caught wind of the sanitation workers strike and traveled to Memphis to assist. This event led to that fateful day of April 4th, 1968, where Dr. King stood on the balcony of the Lorraine Motel and was shot.
April 8th, 1968, only 4 days after the late Dr. King's assassination, congressman John Conyers introduced the first legislation proposing a federal holiday dedicated to the late Dr. King. The bill stalled initially but the Black Caucus continuously re-introduced the bill for the next fifteen years. Coretta Scott King, Stevie Wonder, and other celebrities rallied, petitioned, and marched to galvanize public support. In 1983, congress voted by an overwhelming majority to create a national holiday for the late Dr. King. Ronald Reagan signed the law on November 3rd, 1983 designating the holiday to be the 3rd Monday in January. The first national observance occurred in 1986, only 17 states participated, by 2000, all 50 states observed the holiday.