Jadyn Broomfield Shares her Life Journey After Starting Harvard University
Date:
Thursday, September 6, 2018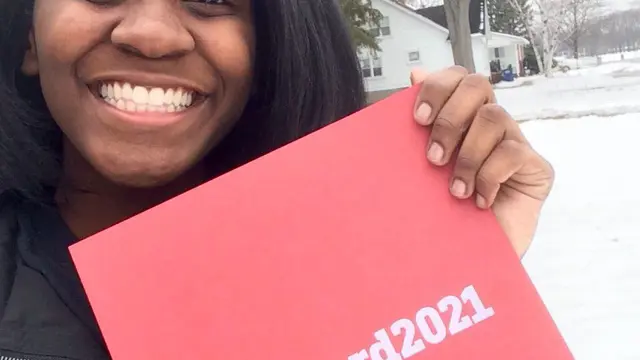 Hello! My name is Jadyn Broomfield and I am a rising sophomore at Harvard University. I am planning to concentrate (Harvard's word for major) in the history of science with a secondary degree in global health and health policy. My future plans include reforming and re-framing the way that we think about healthcare and education in the US and around the world. I once heard that if you find what breaks your heart, you've found your passion and I am passionate about improving the experience for providers and consumers of health and education in society today and for future generations to come.
This summer, I had a wonderful opportunity to experience different cultures of the world which allowed me to gain a deeper understanding of the community where I grew up. I began my summer adventure in Israel with a team of students from schools along the east coast. We explored Israel and the magnificent views it had to offer. We trekked the Holy land and learned more about the current geopolitical situations. Our team had a unique opportunity to hear from locals with various backgrounds to gather different perspectives on the issue in order to gain a greater understanding of the complexity of current situations in and around Israel.
Next, I went to Miami with family. We spent time together for the first time in months. I hadn't seen them since Christmas break. Following that trip, I explored the great city where I grew up. I'm talking about Detroit, Michigan. Months earlier, I attended a panel discussion with the Institute of Politics at the Harvard Kennedy School and listened to an interesting discussion between noteworthy politicians, one of whom was the Mayor of Detroit, Mike Duggan. After, I introduced myself and told him I grew up in Detroit. With a huge smile, he asked if I wanted to come work for him this summer. Surprised and excited, I told him, "yes" and we exchanged info. I had planned to go home and spend time with family over the summer so to work for him in my own city was the perfect offer.
The following day, I was contacted by his office and the entire internship was set up. For the middle portion of the summer, I worked with some of the best and brightest to develop a new project called the Goal Line. The Goal Line is a bus loop that provides free transportation to students in ten schools of Detroit, and free, quality after-school programming. I loved working with the team to strategize about the program, design the website, meet with school liaisons and superintendent, and vet after school vendors to make sure kids would have the best programming. The best part of my experience was having autonomy to share and implement my ideas and coming away with a new hope for the promising future of Detroit. I'm excited to see my city thriving and the many people who work for Detroit so passionate about improving the city. After that internship, my summer adventure was far from over. Immediately after I finished working for the Mayor of the City of Detroit, I went over to New York City for the Hillsong Conference. It was a powerful, educational and memorable few days in the Big Apple.
The final leg of my journey took me to the other side of the globe. After a long layover in Paris and a chance to visit the Eiffel Tower and the Cathedral of Notre Dame, I found myself in Shanghai, China. The Harvard Summit for Young Leaders in China brought Harvard students over to three sites in China: Shanghai, Beijing, and Hangzhou, to teach seminars. My seminar was called Living Your Best Life. It taught students applicable life skills not taught in schools. My curriculum included stress management techniques, tools for students to study according to their personalized learning styles, organization skills, healthy eating information, public speaking tactics, how to be prepared for an interview, resume writing workshops, lessons on appropriate dress for the professional world, how to have healthy relationships with those around them and time management strategies. It was wonderful to see students so eager and excited to learn about bettering their lives. I inspired them, but they did their fair share of inspiring me as well. Learning about Chinese culture was eye opening, educational, and a great end to my summer!