Jason Schrock, named 2018 Michigan Association of Secondary School Principals, High School Principal of the Year!
Date:
Monday, May 14, 2018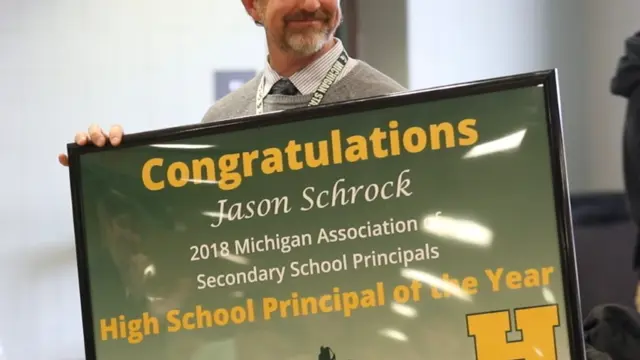 On April 17th, 2018, Principal Jason Schrock, of Howell High School, was named 2018 Michigan High School Principal of the Year. Principal Schrock received numerous nomination letters from members of his student body. All members described Principal Schrock as having exemplary character, integrity, and influence. He strives to make Howell High School an exemplary learning community that maximizes student success by empowering teachers to facilitate, lead, and coach the student body.
"Mr. Schrock is incredibly deserving of this honor. He is a dedicated individual and leader who always has the best interest of the school community in mind," said Erin MacGregor, Howell Public Schools superintendent. "He works tirelessly to ensure that every student feels valued, has a voice and has the resources needed to reach their full potential."
Additionally, Principal Schrock was nominated for the National Principal of the Year competition through the National Associations of Secondary School Principals.