Maile Harris Shares How You Can Make Your Dreams Come True
Date:
Tuesday, October 2, 2018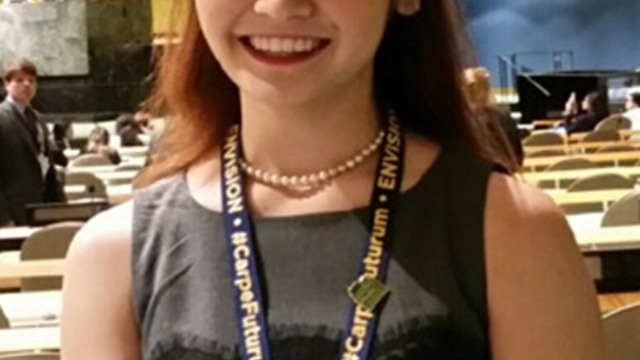 Dreams are what make us who we are. They define our aspirations, make us hopeful for the future, inspire us to keep striving for better. Though we often plan out exactly how to make our dreams come true, the day we see our fantasies become reality is surprising, unbelievable, and wonderful beyond all imagining. When one spends so many years dreaming, hoping, and working toward a goal, the day one sees it come true is unfathomably marvelous.
This is how I felt on March 28th, 2018, the day my dream came true. The day I was accepted to not one, but two Ivy League universities, my top two choices, Yale and Princeton, on full ride scholarships. I've been dreaming of attending an Ivy League school since I was eight years old. That was the year of the 2008 presidential election. I was too young then to understand issues and politics; all I saw was a man who achieved his dream, a platform to make the world a better place. I remember watching Obama give his inauguration address in my third-grade class and looking up at the archaic box TV on the wall, I thought, I can do that too someday. From that day forward, I put myself on the path to one day accomplishing that same dream.
In August, I will officially be a Yale student, class of 2022, a proud Bulldog, elated to be the first in my family born in the United States and attend college. It's been a long and trying, ten-year journey, although the struggle has been entirely worth it. I'd like to share some wisdom and hopefully help make the road a little easier for my fellow NSHSS members. I've listed a few tips on how to apply and get accepted to Universities at a low cost.
Do Your Research!
Early in your high school career, pick three random colleges, and compare them. Try an elite school, state school, and one you're mildly interested in. For each school, research admission requirements, cost of attendance, financial aid information, old essay prompts, if you can find them, and student access to resources like professors or lab positions.
This exercise serves as a good introduction to what universities are looking for in their applicants and by doing this early you can prepare for challenging classes plan for standardized tests you'll need to take begin thinking about the qualities you'll want in a university, such as student body size, student to faculty ratio, and emphasis placed on undergraduate learning as opposed to graduate student learning.
Such research is helpful if you're unsure about what you want to study. Once you have an idea of what you want to study, you can narrow down your college options by applying to schools that specialize in your area. Don't worry about changing your mind though; at most schools, you don't have to declare your major until your sophomore year.
Crafting Your Essay
When it's time to apply, begin writing your essay early and often. Create your application accounts the summer before your senior year so you have access to the prompts as soon as they are released. The more time you make to think about and craft your essays, the better they will become. Remember, colleges don't want to see a perfect candidate from your essays; they want to see your personality, challenges you've overcome, your passions, and what makes you unique and memorable.
For example, I wrote about how my love of Star Trek drives my love of physics (and my fluency of Klingon!), and how I've met my mortal enemy, automatic sliding glass doors because I walk right into them. I would argue that your essay is the most important part of your application, because although your grades and test scores may say "you're qualified to be here," the personality that comes out of your essay is what tells admissions counselors "you deserve to be here."
How Can You Stand Out?
Universities look at your transcripts to see the kind of classes you take. They want to know you've challenged yourself with difficult courses such as AP/IB/etc. Use your course schedule to demonstrate growth, a desire to learn and be challenged.
Financial Aid Assistance
Taking the SAT/ACT, as well as submitting your scores to multiple schools can be expensive! Ask your school counselor for College Board fee waivers to register for exams and submit your scores for free!
College application fees can be costly as well, with application fees up to $90. However, most colleges will offer fee waivers for students who need them, confirm with your high school counselor that you qualify, then reach out to the college's financial aid office for fee waiver codes.
When you need to contact the university you are applying to, send an email to the appropriate office but the fastest way to get the information you need is to call the office directly. Admissions counselors are always happy to assist, and they are often current students who you can ask about their experiences. Don't be afraid to pick up the phone to call, because it guarantees your request won't get lost in a void of emails.
When Should You Visit the Campus?
Don't visit colleges until after you've been accepted to them. Travel is expensive, and you may end up wasting money visiting colleges you won't apply to! Most people visit colleges before they apply to get an idea of the social scene and the overall vibe on campus. Don't get sucked into that trap! Apply to colleges that will be a smart decision for you academically, based on resources and specialization in fields you're interested in. Use the information you learned from the exercise in my first tip to decide what tangible factors you're looking for in your university, and rest assured that no matter where you apply, every college will have multiple communities where you'll fit in.
Stay Positive!
I can't guarantee following these tips will get into your dream school. You must be vulnerably honest in telling your story, and trust that you've done the best work you can do. If you don't get accepted to where you thought you wanted to go, believe you did nothing wrong. I realize that's easier said than done, but that's what happened to me. I applied to fourteen universities and colleges. I was only accepted to five of them. It was devastating because I got almost all my rejections before I got a single acceptance.
However, it is a valuable learning experience and the entire process of application, rejection, and ultimate acceptance helps you to grow as an individual. It forces you to be reflective about your values and convictions, giving you opportunities (through rejections) to stand firm in your beliefs and to trust the power of your work ethic. Venture forth, be brave, be bold, and above all, be true to yourself and your dreams. I can't wait to call you all my colleagues and peers and reinforce our proud NSHSS community!