NSHSS Awards 10 Young Women for Exceptional Leadership
Date:
Tuesday, June 1, 2021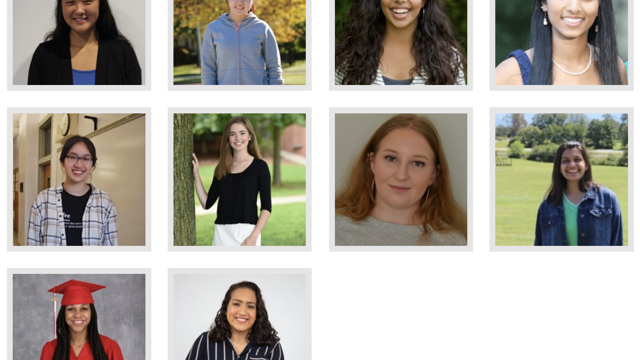 ATLANTA, GA – The Claes Nobel Future Female Leader Scholarship was established by the National Society of High School Scholars (NSHSS) to empower young female-identifying students to assume future leadership roles in their colleges, universities, careers, and communities and to become mentors for other young women. Of nearly 600 applicants, NSHSS awarded 10 students each with a $1,000 scholarship.
These awards are presented to exemplary young students who have demonstrated an outstanding and noteworthy commitment to bettering their community. The winning submissions included inventive solutions to pollution and climate change, overcoming hurdles in the STEM field, taking on children's mental health challenges, and more.
"The recipients of the 2021 Claes Nobel Future Female Leader Scholarship are role models who consistently demonstrate stellar innovation, passion, and leadership," said NSHSS President and Co-founder James Lewis. "To NSHSS, leadership doesn't have to mean being at the head of a club or a class. Actions, not titles, make leaders. The application pool was difficult to choose from, but these 10 students represent the best of the best future female leaders."
To be eligible for the scholarship, students must be high school seniors who identify as female and have a minimum GPA of 3.5. All applicants submitted a 500-800-word write up of how, through leadership in school and community activities and organizations, they possess the mindset and skills to one day succeed as a leader in their desired field.
The recipients of the 2021 Claes Nobel Future Female Leader Scholarship are:
Lauren Elie of Houston, TX
Petal Power was founded by Lauren when she was 13-years old with the mission to brighten people's days. Today, hundreds of volunteers pick up and deliver flowers from leftover event centerpieces to senior communities, Ronald McDonald House, rehab centers, and teen and family shelters throughout Texas.
Maria Izzi of Herndon, VA
A dedicated member of GirlsComputingLeague, Maria teaches underserved students how to code websites. She helps diversify the technology field through her Steps Toward Social Justice newsletter, a community platform and Black student newsletter.
Emily Kapustin of Toronto, ON
A Bronze medalist in the Canadian Judo Championship, Emily formed and taught a class of sexual abuse survivors with a curriculum on physical defense skills, building up participants' emotional and psychological strength. She also created digital resources showing core safety practices.
Shreeja Kikkisetti of Chantilly, VA
To honor her grandmother who passed away from breast cancer, Shreeja created a screening application that could catch cancer early. She also developed an Artificial Neural Network model to classify COVID-19 infection in the lungs and monitor its progression over time. She created an AI-powered system capable of matching veterans and patients on Medicare/Medicaid to clinical trials granting access to life-saving experimental treatments.
Hannah Lee of Springfield, VA
Mission Red, the organization Hannah founded, aims to destigmatize periods and bring menstrual products to all in need. She led a campaign that passed and funded a bill that puts free products in all Virginia school bathrooms. In the first six months of COVID-19, Mission Red collected more than 100,000 products to donate to women in shelters.
Hannah Testa of Cumming, GA
Through her nonprofit, Hannah4Change, Hannah speaks to adults and children around the world about environmental issues like plastic pollution and climate change. She has addressed the President of the United Nations General Assembly and members of Congress on these topics. She has collaborated with businesses to become more sustainable, delivered a TEDx talk about youth activism, and written her own book.
Lindsay Smith of Darien, CT
Lindsay is a member of the only high school student run EMS program in the United States. She mentors younger students and teaches them how to respond to emergency 911 calls, helping them understand that treating mental trauma is just as important as physical. She plans to become a doctor and continue her life-saving work.
Camryn Vela of West Columbia, SC
As Commanding Officer of her high school's NJROTC unit, Camryn shows leadership in team building and taking responsibility in administering disciplinary action to cadets. After completing her degree in computer and electrical engineering at Norwich University, she will join the Navy as a US Naval Officer.
Chelsea Yan of Staten Island, NY
After facing many adversities at home and in school, Chelsea set out to help others through her youth activism club, Redefy, that brings nearly 100 like-minded students together to share their stories and tackle the challenges and social issues her generation is facing. Redefy writes articles, drafts action plans, and holds workshops to inspire others and foster change.
Kaitlyn Zhou of Naperville, IL
Kaitlyn founded AWARE Art Camp to initiate mental health discussions, educate young students on healthy coping and wellbeing strategies, and teach art as a tool for self-care and creativity. AWARE has created new opportunities for children to express their creativity through accessible and approachable resources for help.
About National Society of High School Scholars (NSHSS):
NSHSS is a distinguished honor and scholarship program co-founded by Claes Nobel, member of the Nobel Prize family, and James Lewis. NSHSS offers a lifetime of benefits, pairing the highest-performing students worldwide with college scholarships, events, connections, internships, and career opportunities that begin in high school and carry on through college and careers. For more information, visit https://www.nshss.org/.