NSHSS Educator of Distinction, Hattie Maguire, Presents Workshops at the National Conference of Teachers of English
Date:
Thursday, February 14, 2019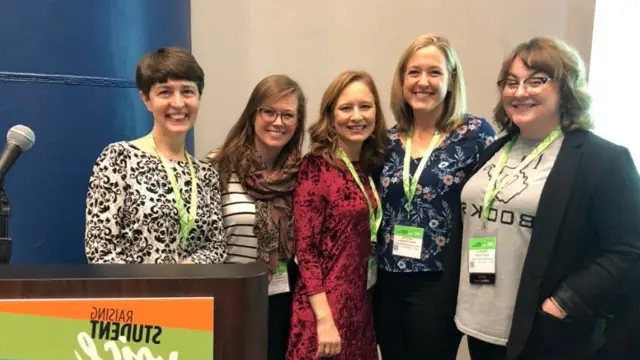 Hattie Maguire, a teacher at Novi High School in Michigan, recently received the NSHSS Educational Conference Registration Grant and used the funds to attend the National Conference of Teachers of English conference in Houston, Texas.  
Ms. Maguire took something concrete and valuable from each of the sessions she attended, specific to her practice. "First, a session by a group of Advanced Placement Literature teachers demonstrated various techniques for engaging all levels of students with critical text analysis. This was useful for my work as a literacy interventionist because they suggested several strategies for introducing struggling students to analysis. Next, I went to a panel discussion of young adult nonfiction authors discussing how we can use nonfiction texts to expose our students to social justice issues. This panel was particularly exciting because I was able to meet and talk with Dashka Slater, the author of The 57 Bus. I had just finished reading that book with my AP Seminar students and they had sent me to the conference with a list of questions for her! Finally, I especially enjoyed a panel presentation of several engineers and architects-turned-writers who presented about how we might use design thinking with student writers. I am currently team teaching an inquiry-based course with business and computer teachers; this session helped me think about new ways we can approach writing instruction in that course."
Additionally, Ms. Maguire presented two workshops: a session on "Making Research Relevant" and one on "Teaching Argumentation Through Poetry" with a team of Advanced Placement English Language teachers from across the country.  
"I would like to thank the National Society of High School Scholars for this wonderful grant opportunity. Attending the National Council of Teachers of English conference was a career highlight. The amount of learning crammed into one weekend was astounding, and my students and I will benefit greatly from the experience," said Ms. Maguire.