NSHSS Gives Voice to the 2021 Virtual Valedictorians
Date:
Thursday, July 15, 2021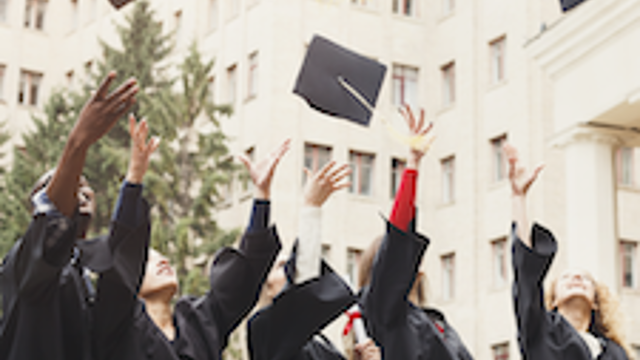 With the world seeing an unpredictable rise and fall in COVID cases, many high school graduates faced the uncertainty of whether or not their graduation ceremony would take place as usual, or if it would even happen at all. This was a stressful and sometimes disappointing time for seniors, especially to those named as their graduating class valedictorian. To make up for the possible lack of in-person ceremonies, the National Society of High School Scholars (NSHSS) announced its Virtual Valedictorian scholarship winners for the second year in a row.
The Virtual Valedictorian scholarship recognizes high school seniors who submitted special messages full of inspiration and encouragement to the class of 2021. Of more than 200 applicants, 10 students were selected by NSHSS to each be awarded a $1,000 scholarship for their outstanding video submission of a valedictorian speech. Student speeches, with a wide range of topics and delivery styles, can be found on the NSHSS YouTube channel. 
"We're pleased to offer students the opportunity to become a 2021 NSHSS Virtual Valedictorian," says NSHSS President and Co-Founder James Lewis. "Graduation is a big day for high school seniors everywhere, and NSHSS wanted to do something to honor these students for their hard work, especially if their graduation ceremonies don't happen as they normally would. We're pleased to give voice to extraordinary young people who are facing uncertainty with insights, spirit, and pride."
NSHSS invited high school seniors to submit a three-to-five-minute video, sharing messages of hope and encouragement to the class of 2021, along with their transcript and a headshot. This scholarship was open to both members and non-members of NSHSS and gave applicants a forum to say what they would have shared with the graduating class of 2021 if given the chance. Applicants did not have to be named their class valedictorian. 
The recipients of the 2021 NSHSS Virtual Valedictorian Scholarship are:
Coen Adler of Fremont, CA
In Coen's Zoom-themed speech, he reminisces about the different groups he has been a part of throughout high school and the different classes that everyone knew about. He also touches on many of the relatable actions that students face and thanks those that have helped him along his path to graduation.
Caitlin Britt of Dover, MA
In Caitlin's speech, she talks about the importance of individualism and how social media hinders personal growth. She put her phone down for 90 days, and it changed her life. Now, she says it's time for her classmates to try it themselves as they all enter the next chapter of their lives.
Gabrielle Del Rio of Eldred, NY
Through her speech, Gabriella communicates that the class of 2021 is the future and that all students should keep educating themselves and maintaining their purpose throughout all walks of life. 
Rebecca Gonzalez of Los Angeles, CA
Rebecca's inspiration to pursue film as a career began the night she watched a film by a Black director that uplifts the stories of Black families, similar to hers, all around the world. That same night, Nipsey Hussle passed away. In her speech, Rebecca shares her belief that this generation must continue his legacy by inspiring each other and building solidarity in any way we can, no matter what path we choose. 
Karringtyn Johnson of Lathrup Village, MI
The subject of Karringtyn's speech focuses on the message to continue striving and staying motivated while finishing high school during a pandemic. She conveys that all seniors should maintain a focused mindset, keeping their heads up.
Julia Levy of Troy, MI
Julia has always lived by the philosophy, "Shoot for the moon. Even if you miss, you will land among the stars." In her speech, she explains how shooting for the moon was impossible for her this year, but landing among the stars was a far better achievement for her class.
Skylar Sena of Merrick, NY
Through Skyler's speech, she connects with her classmates and reflects on the ups and downs created by her four-year journey through high school. She hopes to connect deeply with other students, discussing anecdotes, humorous quips, and intricate metaphors to detail the teenage experience.
Nathan Snow of Salem, VA
In Nathan's inspiring speech, he compares his school's experience with the pandemic to the Marvel Cinematic Universe. In the end, he concludes that his school's mascot, the Spartan, is its own form of superhero.
Vania Trejo of San Antonio, TX
Vania says this is not a normal graduation speech, because they are not a normal class; they are the class of 2021, the one with the pandemic. In her speech, she talks about the positive things she has learned because of the pandemic.
Camille Young of Columbia, MD
Camille's speech is entitled "Don't Let Yesterday Take Up Too Much of Today." With her speech, she reminds other graduates that despite any challenges and/or disappointments, they have to cherish these moments of adversity and use the experience as fuel to prosper. This motivates students to keep pushing forward.
About National Society of High School Scholars (NSHSS):
NSHSS is the premier international honors and scholarship program co-founded by Claes Nobel, a member of the Nobel Prize family, and James Lewis. NSHSS offers a lifetime of benefits, pairing the highest performing students worldwide with college scholarships, events, connections, internships, and career opportunities that begin in high school and carry on through college and careers. For more information, visit NSHSS.org or connect with NSHSS on Facebook or Twitter.