NSHSS Rewards Students for Putting Mental Health Solutions into Action
Date:
Monday, June 7, 2021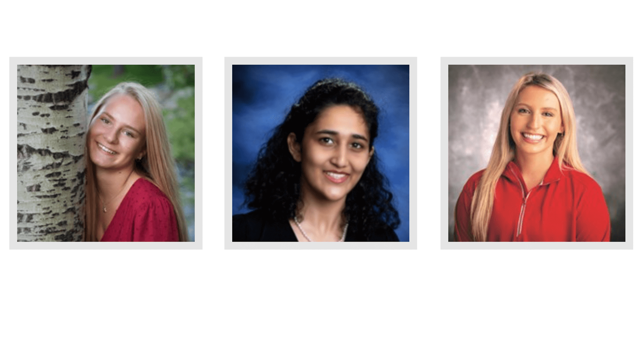 The National Alliance of Mental Illness reports that one in five U.S. adults experience mental illness, while the World Health Organization reports that one in six people aged 10 to 19 experience mental illness. Experts say COVID-19 has only exacerbated the problem. From April through October 2020, the proportion of teenagers who visited an emergency department due to a mental health crisis climbed 31 percent compared to that same period in 2019, according to the CDC. In response to our nation's mental health crisis, the National Society of High School Scholars (NSHSS) established the Mental Health Awareness Scholarship to recognize students who are spreading awareness and effecting change regarding mental health. Of nearly 300 applicants, NSHSS awarded three students each with a $2,000 scholarship.
These awards are presented to young students who have demonstrated an outstanding commitment to helping bring awareness and overcome stigmas surrounding mental health. The winning submissions included innovative dementia and Alzheimer's research, a nonprofit that aims to cut teen suicide rates, and a kindness campaign on a specialty license plate that could raise $1.7 million for mental health causes over the next 10 years.  
"The 2021 Mental Health Awareness Scholarship winners are game changers who have stepped up to fight mental health challenges with inspired and practical solutions," said NSHSS President and Co-founder James Lewis. "The student application pool was difficult to choose from but these three students emerged as clear thought leaders. Their efforts are already making a difference, and we have big expectations for them and their peers in the future."
To be eligible for the scholarship, students must be high school juniors, seniors, or college students who have positively spread awareness and effected change in the mental health space. All applicants submitted a 500- to 800-word essay on how they are staying mentally strong through the pandemic, spreading awareness with plans to sustain their efforts, and expressing their views on how social media and other technology impact mental health.
The recipients of the 2021 NSHSS Mental Health Awareness Scholarship are:
Roma Ankolekar of Cupertino, CA
Dementia Insight was started in remembrance of Roma's grandmother to spread awareness by publishing monthly blogs on caregiver tips, scientific research, and community support. She hosted an event on World Alzheimer's Day 2019 where speakers delivered impactful presentations on the pathology of dementia, resources available for the elderly in the area, and services offered by memory care facilities. Hosting this even opened her eyes to the power of being a changemaker and allowed her the opportunity to aid the Age-Friendly Cupertino Taskforce senior care efforts. A proposal she helped present resulted in the council voting in favor of adding below-market-rate senior housing and memory care centers to the project. Roma and team are currently planning for a 2021 Memory Disease and Care Series to progress Cupertino towards being a more age-friendly and dementia-friendly city.
Morgan Guess of Paducah, KY
After experiencing bullying in third grade, Morgan has spent a decade talking about mental health, while working with her regional mental health center to open a youth drop-in center. She recently secured approval from the Kentucky Special License Plate Commission for an official Be Kind Kentucky license plate. The initiative has the potential to donate more than $1.7 million over the next 10 years. In May of 2020, she brought her community together to create a kindness mural with members of the NAACP, police officers, business leaders, students, artists, and ministers who gathered in a tunnel of the Greenway Trail to paint a call to action – Be Kind Paducah. The effort resulted in a Youth4Change project with the head of the community's NAACP: a six-point plan focused on providing opportunities to Paducah's Black community. In the fall, Morgan will attend Duke University to study public policy.
Avery Wilson of Lakewood, CO
After experiencing the loss of her friend, Robbie, Avery and her community started Robbie's Hope, which gives teens a safe space to speak to other teens, takes their minds off stressors, and allows them to share their experiences to help others. She helped the organization successfully launch their first annual Robbie's Hope Gala, raising money to support all of their projects. The organization is campaigning for the state legislature to be more conscious of mental health by advocating for a bill that would consider mental health as a valid reason to miss school. They have also published a handbook, A Guide by Teens on How to Talk to Teens, and are constantly growing through their new Ambassador program and the ever-expanding Hope Groups. Now, as the three-year anniversary of Robbie's passing approaches, Robbie's Hope continues to fight to end the stigma of teen mental illness and strives to cut teen suicide rates in half by 2028.
About National Society of High School Scholars (NSHSS):
NSHSS is a distinguished honor and scholarship program co-founded by Claes Nobel, member of the Nobel Prize family, and James Lewis. NSHSS offers a lifetime of benefits, pairing the highest-performing students worldwide with college scholarships, events, connections, internships, and career opportunities that begin in high school and carry on through college and careers. For more information, visit https://www.nshss.org/.