Pre-College Summer Programs for High School Students
Date:
Monday, February 6, 2017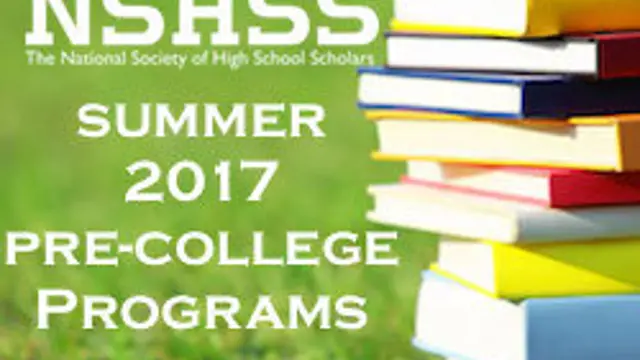 Maximize your summer break by enrolling in a pre-college program. Many NSHSS Collaborating Universities have summer programs for high school students, and several of them are offering discounts and scholarships exclusively for NSHSS Members.
The Baruch Leadership Academy takes place at Baruch College, a thriving, internationally ranked institution, located in the heart of New York City, midtown Manhattan. Academy pre-professional programs allow students to explore new realms of academia, engross themselves in college planning and standardized test preparation, and better plan for success in their future endeavors. At the Baruch College campus, Academy students experience college life while they prepare to shine in the college admissions process, excel at the university level, and embark on successful, focused career paths.
GW Pre-College program enrolls high school students in academic programs that integrate lectures and seminars with an applied exploration of an area of study. Programs are enhanced by experiential learning which offer hands-on learning opportunities for students to connect theoretical concepts to real-world practice. Students can participate in college readiness seminars that engage them in an understanding of the admissions process and the student experience, as they prepare for their college future. George Washington University will be providing selected NSHSS members with a scholarship to attend certain GW Pre-College programs in 2017. Additionally, GW will waive the application fee for NSHSS Students interested in applying to any GW Pre-College program.
Accomplish your goals, whether you're looking for university credit or just want to discover your passion. Get an edge on the competition for college admission. Johns Hopkins University (JHU) offers two undergraduate-credit-granting programs: Discover Hopkins and Summer University. Johns Hopkins University will be providing selected NSHSS members with a scholarship to attend their Pre-College summer session in 2017. Additionally, JHU will waive the application fee for all NSHSS applicants.
The King's College London Pre-University Summer School is a combined academic and social program for students in their final two years of high school. Through academic classes, university preparation and additional skills workshops, this program aims to prepare high school students for university study as well as offer students a taste of university life at King's College London. Students can choose to study Business Management, Law, Medicine, Politics or Psychology. Please see each course page for more information about classes, teaching patterns and assessment.
This summer, explore your passion for research at Koç University (KU), in Istanbul, Turkey. A vibrant city with rich history from centuries of civilizations, Istanbul provides an excellent setting for a world class education. During Koç University Summer Research Program (KUSRP) undergraduates and high school students are exposed to a variety of new concepts and research techniques while working closely with KU faculty in fully-equipped laboratories. If accepted to KUSRP, both tuition and on-campus accommodation are FREE.
Syracuse University's Summer College for High School Students gives students an amazing opportunity not only to explore their artistic, intellectual, and professional passions, but also to experience college life. With both credit and noncredit offerings lasting from two through six weeks, our programs represent the rich diversity of fields that span the University's schools and colleges. Syracuse University will be providing selected NSHSS members with a scholarship to attend their Summer College in 2017.
The HKU Summer Institute offers more than 30 credit-bearing and non-credit-bearing programs in the fields of Arts and Humanities, Social Sciences, Business and Economics and Science. These programs are comprised of lectures from acclaimed HKU professors and prestigious scholars, workshops, site visits, field trips and case discussions. HKU Summer Institute offers a special discount for NSHSS members. Students will receive a tuition fee discount of 10%
UVa Advance is a four-week summer residential program for highly motivated, rising high school juniors and seniors that offers participants an opportunity to experience college life at the University of Virginia. The UVa Advance program is composed of classes, workshops & social activities.
Wellesley College invites motivated female high school juniors and seniors to join us this summer for a unique, immersive college experience—The Wellesley Pre-College Residential Program. For four weeks, students will have the opportunity to become members of the Wellesley community, taking courses with college students while earning full college credit. Students will also enjoy academic, social, and intellectual opportunities that cannot be found in a high school program. Wellesley College also offers one-week pre-college residential programs for a taste for college life. Wellesley College will select two NSHSS members to receive a tuition fee discount of 50% off the four-week residential program.