THE NATIONAL SOCIETY OF HIGH SCHOOL SCHOLARS (NSHSS) PRESENTS WORLD BETTERMENT AWARD TO DR. WILLIAM E. EVANS
Date:
Tuesday, December 8, 2015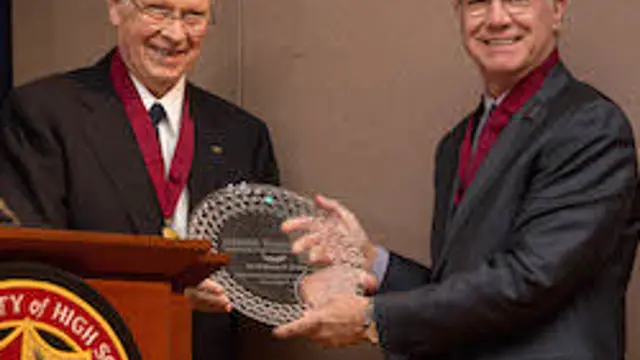 Atlanta, GA, December 8, 2015 – Claes Nobel, senior member of the family that established the Nobel Prizes and Chairman ofThe National Society of High School Scholars (NSHSS), formally presented the 2014 Claes Nobel World Betterment Award to Dr. William E. Evans, former President and Chief Executive Officer (CEO) of St. Jude Children's Research Hospital, at The Carter Presidential Center in Atlanta, Georgia on Saturday, December 5, 2015.
The Claes Nobel World Betterment Award was established in 2013 to honor outstanding role models for today's millennials, recognizing individuals who are making exceptional contributions to the promotion of global unity and cultural understanding in their own particular area of influence.  Through the Award, NSHSS and the NSHSS Foundation seek to inspire leadership and value for humankind among diverse young people around the world.
Dr. William E. Evans retired as President and CEO of St. Jude Children's Research Hospital in July 2014, to return full time to his laboratory research on the pharmacogenomics of anticancer agents in children with acute lymphoblastic leukemia. During Dr. Evans' 10-year tenure as CEO, St. Jude achieved the best survival rates for some of the most aggressive childhood cancers.  St. Jude is known for having an indelible mark on the improved survival and quality of life for children with cancer and for families never receiving a bill from St. Jude for treatment, travel, housing and food.  Not surprisingly, the hospital has been recognized by members of NSHSS as their top employer of choice and by Fortune Magazine as one of the top 100 best places to work. 
"Through his outstanding work in medicine, Dr. William E. Evans has made an enduring impact on millions of children and families worldwide," Mr. Nobel said. "Dr. Evans is a remarkable role model to young people who wish to follow in his footsteps, and it is my privilege to present him with the Claes Nobel World Betterment Award."
Dr. Evans joins other esteemed individuals who have received the Claes Nobel World Betterment Award, including Laura Turner Seydel, Chairperson of Captain Planet Foundation; Arne Duncan, former CEO of Chicago Public Schools and U.S. Secretary of Education; Greg Goff, President and CEO of Tesoro Corporation; and Todd Corley, Founder and Chief Strategist, The TAPO Institute.