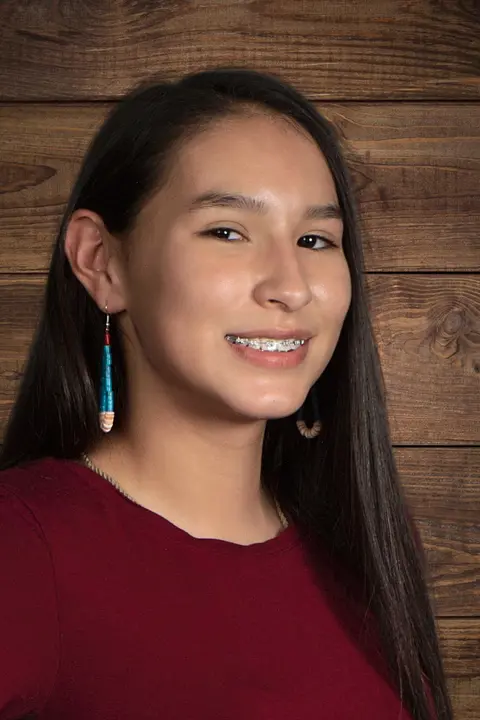 Bailey Nez
Pine Hill High School
Pine Hill, New Mexioco
Ya'at'eeh. Shi'ei Bailey Nez yinishye. Be'e'sh bich'a'a'hi nishli' ado'o' T'aachi'i'ni'i' ei bashishchi'i'n. Scotch Irish ei dashicheii do'o' T'aahne'e'sza'ni'i'i dashinali.
My name is Bailey Nez. Above I introduced myself and shared my clans in the Traditional Navajo way. I was born and raised on the Navajo Nation in Northwestern New Mexico in a traditional home. Due to the pandemic, my sophomore year was shortened, my junior year was 100% virtual and my senior year has been a hybrid model. Despite the obstacles presented over the course of the last year and a half, I have been able to participate in varsity athletics including basketball, volleyball, softball and track. I also challenged myself academically by taking AP classes, Honors classes and college courses to study Tribal Government and Tribal Law. In addition to sports, I enjoy music, reading, riding horses, talking with friends and watching movies. I plan to major in Environmental Science as an undergraduate and Environmental Law as a law student. I hope to use my education to work on behalf of Native American tribes to protect our land, water, natural resources and sacred sites as well as promote caring for the environment in an everchanging world.
The NSHSS Nobel Academic Excellence Scholarship recognizes high school juniors and seniors making a positive impact on society, and how college will help these students continue to make an impact for years to come.