Danielle Geathers, a student with a record of achieving excellence, is making headlines. During the most recent student government election at Massachusetts Institute of Technology (MIT), Danielle made history becoming the first black female student body president. Alongside her, Danielle chose fellow activist Yu Jing Chen, an Asian American woman, as her vice president, thereby making history for the university as the most diverse student government leadership to date.
After observing a lack of inclusive support for incoming freshmen, Danielle was inspired to run, stating in a recent interview with CNN, "Although some people think it is just a figurehead role, figureheads can matter in terms of people seeing themselves in terms of representation… Seeing yourself at a college is kind of an important part of the admissions process." Currently, roughly 6% of undergraduates are black and 47 percent are women, according to MIT statistics. In a recent interview with South Florida Caribbean News, Danielle stated, "I see the Undergraduate Association (UA) as an underutilized engagement tool that will be essential as MIT designs and implements its plan for COVID-19. I am excited about the opportunity to amplify underrepresented student voices and make the UA more visible as a both support resource and efficient communication channel." She is also the founder of Talented Ten, an initiative to increase the number of black women attending MIT.
An active NSHSS member since 2016, Danielle is a part of the NSHSS Student Council, who are college student leaders in the society. Danielle also attended Nobel Week in December 2019. She and other students from around the world traveled to Stockholm, Sweden for a Nobel-themed learning program, complete with hearing lectures from actual Nobel Laureates. She is a 2018 graduate of Miami Country Day School, where she lettered in softball, golf, volleyball, and soccer, where she earned the Miami-Dade Female Scholar Athlete of the Year and Soccer MVP as a two-time captain and five-time District Champion. Off the field, Danielle founded the Black Student Union, became President of the National Science Honor Society, and was part of Mu Alpha Theta, the English Honor Society, the National Honor Society (NHS), and the John C. Dubois History Honor Society. 
Danielle is currently a Mechanical Engineering major entering her junior year this fall at MIT.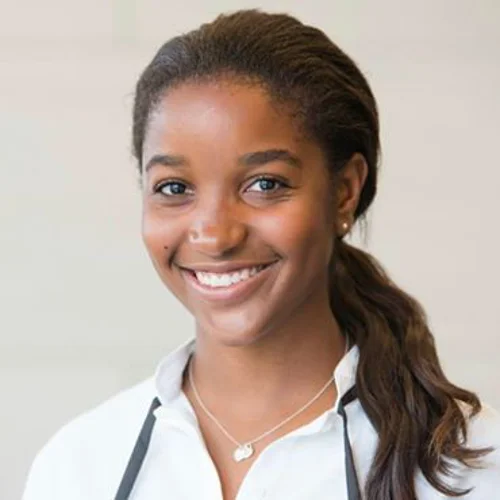 Catch Danielle in the images from Nobel Week!