NSHSS Member Taylor Sherer from Pawleys Island, South Carolina, is a senior at the Academy for the Arts, Science and Technology in Myrtle Beach, South Carolina and will be attending Clemson University in the Fall of 2019. Taylor is one of our Earth Day Award winners sponsored by the Captain Planet Foundation. "I'm so excited that my environmental stewardship project has allowed me to receive both the Captain Planet Earth Day Scholarship, and acceptance into the Biological Sciences major at Clemson. I look forward to continuing my passion for ecological conservation."
Since 2018, Taylor headed an organization called From Seeds to Shoreline (S2S) that collects, germinates, and transplants the seedlings of salt marsh grass.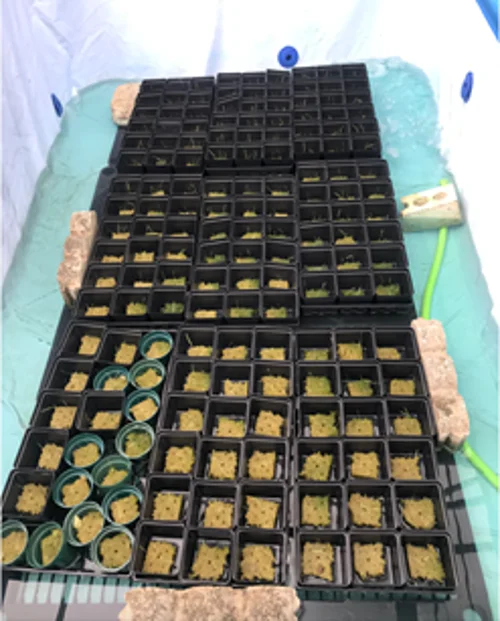 This process is vital for the local ecosystem to continue its existence. As president, she was in charge of many tasks involving both the S2S organization and the student population, as well as tasks both inside and outside of school.
Before beginning the process of collecting and germinating the Spartina (salt marsh grass) seeds, Taylor first had to put together a plan of action. "On my school's campus, we have a conveniently located greenhouse. Unfortunately, it hadn't been used for quite some time and had turned into an extra storage building."  Once the neglected greenhouse was cleaned out, organized, and prepped, Taylor led a seed collection at Withers Swash Park in Myrtle Beach. A team of about three teachers and thirteen students collected hundreds of tiny Spartina seeds, germinated the seeds, and transplanted the grass seedlings at Huntington Beach State Park in Murrells Inlet, South Carolina.
This project was especially important to Taylor because of her personal ties to the salt marshes of Murrells Inlet. She says, "growing up in the Inlet, I have watched the effects of urban sprawl on my small community. Most people are unaware of the importance of the salt marsh ecosystem in our normal lives." Taylor was able to talk to elementary students about the critical job the salt marshes have of filtering water to remove pollutants. "Many people were surprised to learn that without the salt marshes, the water in and around those areas would be a lot more polluted."

Thankfully, Taylor's school will continue the important conservation project that she started even after she graduates. "I hope that through my education efforts, other schools in my area will also begin to participate in the conservation of our beautiful salt marshes."  
Congratulations to Taylor and our other Captain Planet Earth Day Award winners!