Many young people dream of seeing their name on the cover of a book they have published, NSHSS member Raina Kadavil recently turned this dream into a reality with her new book The Voice of Thunder.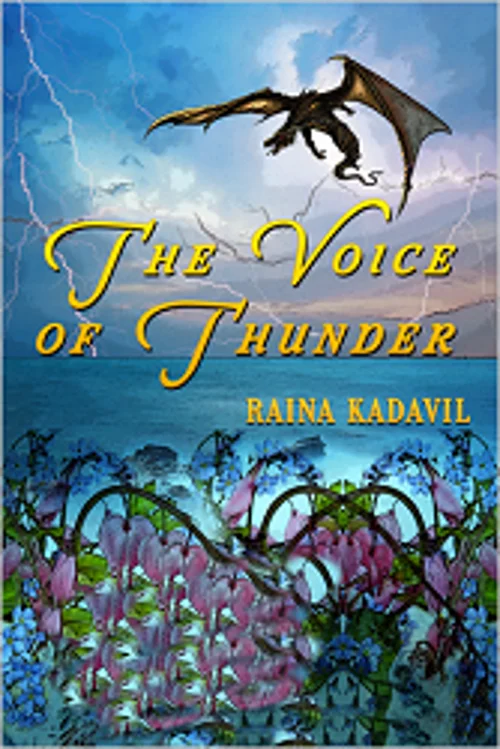 Raina, a Claes Nobel Academic Scholarship Recipient, is currently a student at Boston University studying International Relations and an intern for UNA-USA and the Friendship Ambassadors Foundation. She is also one of the most recent recipients of an NSHSS Travel Grant to attend Stockholm University in Sweden for Nobel Week.
She sat down with us to answer a few questions about her writing process, and how she got her book published.
Q: Where do your ideas come from? Did you work with an outline or plot, or do you prefer just to see where an idea takes you?
A: Ever since I was little, I've had a love for words and books and writing – because that was what my parents raised me with. They used to take me to the library every evening, and I'd come home happy with a big stack of books in my arms. When I first started writing what eventually evolved into "The Voice of Thunder," back in the sixth grade, my inspiration was my friends and the people around me.
But as I grew older and developed more knowledge about and a greater love for the world around me, I began to incorporate that into my writing more than anything else. The Voice of Thunder reflects all of my feminism, all of my belief in the power of the individual, and all of my hopes for the young people of the world.
I don't think I've ever really made an outline while writing – I usually just pick up where I left off in my notebook and write, whether it's good or bad, and go back and redo what's bad. I'm definitely the kind of person who floats off into my own head from time to time, and I find that I get inspiration at the most random times in the form of little phrases or plot twists, and am then forced to immediately grab for the "Notes" section of my phone or the corner of the nearest notebook to keep these ideas from slipping my mind. I'm a very "go with the flow" kind of person in life, and that definitely reflects in my writing style.
Q: What did you enjoy most about writing this book?What was the hardest part of writing this book?
A: The best part about writing this book is that I really truly wrote it for me, but I was able to use it to share my ideas with the world and that, to me, is magical, and the greatest gift I could have ever asked for. The Voice of Thunder was what I ran to when I was fighting with my mom, or struggling in school, or having a hard time with a friend. It was my confident when I saw problems with the world that I knew were bigger than myself, problems that I can never solve single-handedly.
So what I enjoyed most was throwing all of my own insecurities, hopes, and beliefs into the pages of a fiction novel. The hardest part had to be the writer's block, and balancing this with schoolwork – at the back of my mind, there was at times a nagging voice telling me that my time could be better spent. But I never stopped writing, because I most likely would have gone insane if I had.
Q: What process did you go through to get your book published?
A: I am an unsolicited author, which means that I do not currently have an agent, nor did I when I was submitting to publishers. "Author" was that thing I used to say when I was little, when people would ask me what I wanted to do when I grew up.
Though I wrote for myself, when I realized at the end of sophomore year of high school that I had a fully completed manuscript in my hands, I decided that I wanted to make that dream reality, so I wrote a query letter, which is a summary of the book, accompanied by my credentials (never having been published before, this was limited to my writing for local papers and the school literary magazine, as well as information about my organization, Global Ambassadors Interact and my work in the UN in order to establish some credibility).
I then turned to what is each and every one of our best friend in this day and age: Google. I found a list of publishers who accept unsolicited queries, and I began to send mine out. In total, I have received three positive responses, and after a small delay with another publisher, I signed my contract with Ravenswood Publishing.
Q: What do you do to stay organized/ focused with school? How do you find or make time to write?
A: I always say that I would be completely lost without my planner, and my "to do book." My planner is lined with tabs reminding me of important events and meetings, and my "to do book" replaced the "to do lists" that I kept losing, and keeps me on track. There's no feeling more satisfying than crossing something off of that book.
I think the best advice that I can give other high schoolers and aspiring writers is to always stay focused on your goals. Know where you want to see yourself in ten years, and work toward that…and chances are, you'll end up even farther. And if you have a dream, no matter how outlandish and ridiculous it is, keep working toward it, even if it's on the side. I found time to write in the morning while brushing my teeth and during class when I finished my work early, and on the school bus coming home; it was and is my equivalent to meditation, if there is one.
Q: Tell us about your favorite teacher; how have they supported or inspired you?
A: All my life, I've had a special love for my history teachers – whether I've been graced with incredible history teachers, or whether I just love history, I can't be sure. Two people in high school stand out – Ms. Napp and Mr. Roma. Ms. Napp was my 10th grade AP World History teacher, who taught me about the world as if its history was a story in itself, and enchanted me completely. She helped me make the decision of what I want to do with the rest of my life, and some of the things she taught me have found their way into my book, guised in fiction. She is the single most inspired and enlightening person I have ever known.
Mr. Roma was my Human Rights teacher, and also the founder of Peace One Day and the director of the Jiggy Showcase at my school – never in my life have I met someone with so much energy and such a passion for everything around him. He took me under his wing and gave me so much confidence, and the belief that if I speak with enough conviction, the world will liisten.
Q: What are you currently studying in college and how does that fit in the context of where you see yourself in 10 years?
A: I am currently at Boston University studying International Relations, with a focus on World Order and Diplomacy, and a potential focus on the Middle East and North Africa. Although writing is perhaps my greatest passion, the love of my life that comes close is for the world, and therefore, I hope in ten years to be working for the greatest peacemaking institution in the world, the United Nations.
I hope that I will be able to work in the field of human rights, possibly in the Hague, and that I will have the chance to travel, see parts of the world and meet people that are currently beyond my reach and imagination. I want to incorporate everything I see and learn into my writing, and share it with the world – I hope that I will be able to inspire young people like me through this. And, I hope that I will be able to publish at least four more books to complete "The Guardian Legacy" series, and perhaps more to come afterward!
Q: How has the NSHSS played a role in your academic career?
A: NSHSS has been truly incredible. I didn't know the extent of the organization when I first signed up in my sophomore year, but NSHSS has gone perhaps farther than any other organization in widening my horizons and inspiring me to accomplish my dreams, in part because of Nobel Week in Sweden, which I attended last December.
NSHSS sponsored me with a $1,500 travel grant, and allowed me to hear some of the most incredible and accomplished people in the world speak, to see a part of the world that I had seen previously only through video-conference, and make friends that I still stay in touch with today, each of whom has their own story that makes them a shining star.
NSHSS also helped to fund my college education with the Claes Nobel Academic Scholarship, which I am forever grateful for. Most of all, NSHSS has taught me that it doesn't hurt to dream, because sometimes those dreams become reality, in the most unexpected of ways.
Q: Do you have any advice for other young writers who dream of publishing a book?
A: One of those mind-boggling thoughts that I think about in the shower is that each and every one of the seven billion people on this planet has their own story; no one knows exactly what you know – there's something you know that no one else in the world does.
No one can write what's in your head quite the way you can…so write it. No matter how discouraging the world seems sometimes, put a pen to paper. Getting started is always the hardest part, but once you get over that hurdle, I promise that there's nothing you can't do – or in this case, write. And as with anything, the more you practice, the better you get – so get started now. The best time to start was yesterday…but the second best time is now.