Student Stories: Three Ways to Raise Money to Attend the Yale Young Global Scholars Program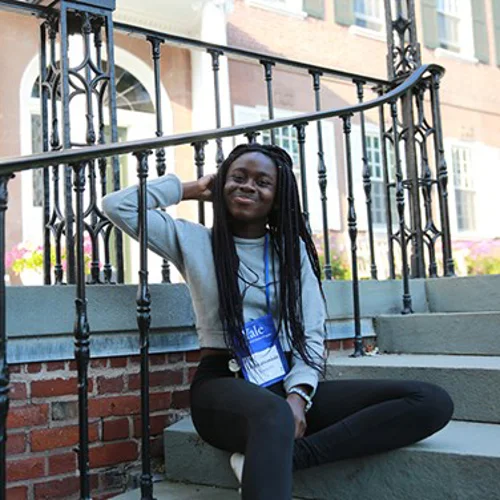 1.) Request Donations from Local Organizations

Oluwatomisin Ogunnubi (at right) received a donation from Keystone Bank that funded her Yale Young Global Scholars (YYGS) tuition. Excited for the opportunity to learn about science and technology, especially artificial intelligence, Oluwatomisin was determined to attend the program but faced certain financial obstacles: "The admission fees and travel costs were particularly very expensive for my family to afford at the time. They already had huge financial commitments to take care of." She immediately began researching ways to raise money.

"YYGS provided me with a tool guide on how to fundraise the rest of the tuition cost, so I followed the manual and drew up a list of potential donors that I could reach out to such as relatives, friends, my parents' social media followings, etc. I sent out letters explaining my interest in YYGS and my desire to make an impact."
Keystone Bank was included on her potential donor list, and after sending the organization a letter, they scheduled an interview to meet with her and later surprised Oluwatomisin with a donation check. The donation helped pay her remaining tuition balance and some additional travel expenses.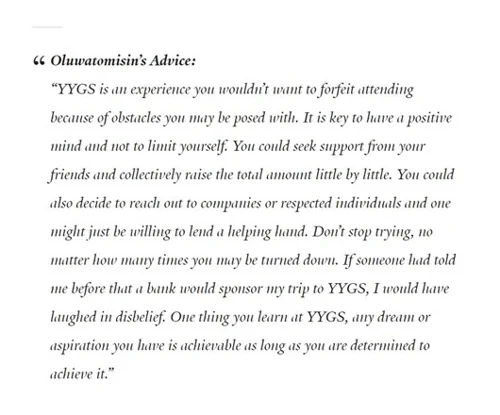 2) Seek Funding from a Private Donor
Chenyu Zhang received support from a private donor to attend the YYGS reunion. He was excited to attend the reunion but struggled to afford the airfare from China to the United States. During YYGS-Beijing, Chenyu participated in a professional development event where Yale and Yale Center Beijing affiliates networked with program participants. Chenyu had connected with David Diebold during this event, and he reached out to David for advice on how to raise funds. To Chenyu's surprise, David offered to fund the cost of airfare for Chenyu to attend the reunion.
"I learned that sometimes the solution to a problem will present itself when you bring meaning to the problem rather than just trying to find a textbook answer."
​

3) Reach Out to Your Local Municipality

In addition to receiving a partial scholarship from YYGS, Gali Haskell also received funding from his family and a local municipality to attend the program. He wanted to explore his interests in politics and law, as well as meet like-minded peers from around the world who had similar passions, but he faced financial obstacles:
"In Israel where I live, expenditures are high, and incomes are low (compared to the United States). The fee of about $6,000 is equal to a monthly salary of a mid-class family in Israel. In addition, my family was facing some health problems, and I was not sure I could get the support I needed."
Fortunately, Gali's extended family was willing and able to help: "Paying for YYGS involved my extended family and some of my own savings. My parents, my grandparents, and a distant relative [helped fund my tuition and flight costs]."
Gali sought alternate means of fundraising too: "Trying to obtain funds, I approached several organizations, including the regional council. They got a recommendation from my school and responded with a modest scholarship."