With Colleges and Universities offering qualitative educational experience, Florida is ranked as one of the best states for Higher education by the U.S News and World Report. Apart from the sound educational system, many colleges and universities offer low tuition rates, making it easy for students to go to school without worrying about paying off student loans. 
Students who attend higher institutions in Florida and decide to settle there have access to several internship opportunities and job offers once they graduate. Florida also has some of the best graduate programs in medicine, business, engineering, and law. 
Here are some universities and colleges in Florida that are worth checking out and what they offer.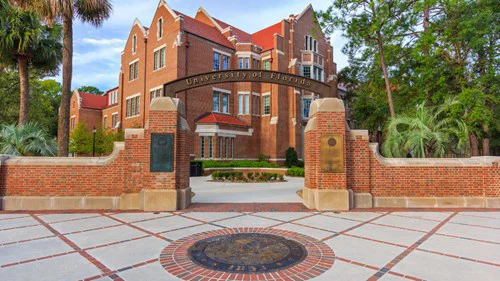 University of Florida 
The University of Florida is ranked as the #1 among the universities in Florida and #28 in National Universities with an acceptance of 36.7%. It is well-known and respected around the nation for its high standards both in academics and extracurricular activities. 
The University of Florida boasts of architectural grandeur. A campus tour to the University of Florida will have you thinking you stumbled on the sound stage set in the 1900s. The University's History District has a 157 foot-tall Century Tower that pays tribute to the UF alumni. UF prides itself on having several Nobel Laureates, Turning Awards, Medals, and International Awards that make it an excellent choice of location to further your education. 
University of Miami 
The University of Miami is a private university in Florida with a highly selective acceptance rate of 27%. Although the total tuition is more than the national average cost, a campus visit reveals the University as a vibrant community focused on academic learning, teaching, and knowledge discovery. 
The University of Miami is classified as a top-tier research school with many opportunities for students across different levels of work and fields. Some of the main campus attractions include the 600-seat Concert Hall, the Lowe Art Museum, and the Bill Cosford Cinema- one of the longest-running film houses in the country. Notable Alumni that the University has produced include the famous actor and businessman Dwayne Johnson, actor and screenwriter Sylvester Stallone, Gloria Esteban, and American comedian Jeff Garlin. 
Florida International University 
Florida International University is Miami's only research university and is also in partnership with NSHSS.  NSHSS collaborates with top universities worldwide to connect fellow members with resources related to college admissions, planning, and scholarship benefits.
FIU is ranked #17 out of universities in the state for quality and value. Also one of the largest schools in the nation, FIU boasts of quality education, grants, aids, and low tuition with numerous job offers for graduates and exchange programs for students in dozens of countries globally. 
A campus visit to Florida International University reveals a balanced academic calendar and over 300 academic associations, professional societies, interest groups, and cultural organizations that all combine to create a vibrant community for the students of Florida International University.
NEED MORE HELP WITH YOUR COLLEGE APPLICATION? 
NSHSS has you covered. The National Society of High School Scholars has been in existence since 2002, providing quality assurance and aid to students in high school, college, and other higher degree programs. 
One of the significant benefits of being a member of NSHSS is you will have access to a lifetime of distinctive academic and leadership experiences and scholarship opportunities. Being a member of NSHSS will help you prepare as you explore the admissions process and procedures of your preferred institution and provide you with the necessary resources it takes to achieve excellence both in college and beyond.